Product description: Eura-tech Eura CD-65A4 - carbon monoxide sensor
A sensor that detects the concentration of carbon monoxide (CO) in the air. It is powered with the voltage of 4.5 V DC (3 x AA battery). It is used to warn about dangerous for human, gas, with the help of beeps and optical signal on the integrated display. The module also has a temperature sensor. The device detects the signaling concentration of CO from 300 ppm. It has a button Test / Menu that allows to check the correct operation of the device and shutdown alarm.
Attention!
Before connecting, see the instructions attached to the kit.
Specification of the sensor of carbon monoxide - Eura CD-65A4
Sensor: electrochemical CO sensor
Power supply: 4.5 V / DC (3 x AA batteries - included)
Operating temperature: 0 °C to 40

°C

Humidity: up to 90% RH
Current consumption:

Standby mode: 90 µa
Alarm: 75 mA

Operating range: approx. 20 to 25 m2
Degree of protection: IP20
LCD display
Temperature sensor

Alarm: 85dB acoustic alarm and optical alarm

Buttons: test / menu

The activation time of the alarm:

300 PPM -alarms within 3 minutes

Dimensions: 120 x 90 x 40 mm
Weight: 220 g
5-year warranty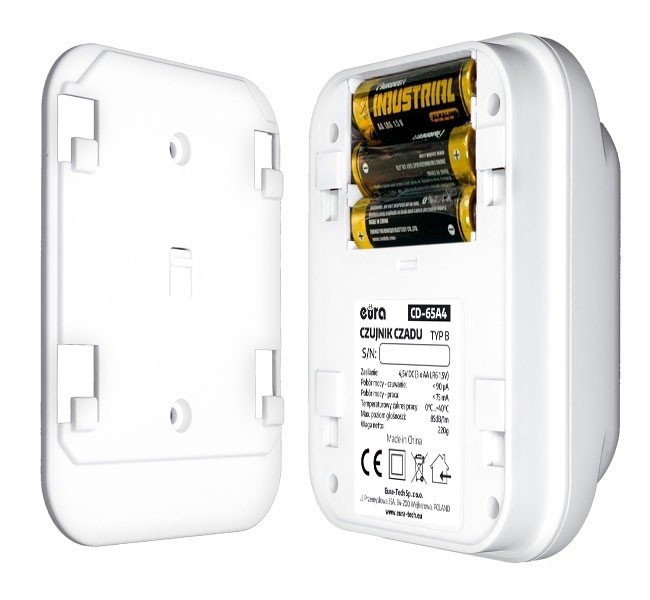 Sensor Eura CD-65A4 finds application in:
Home boiler rooms with stoves of CO fired with the solid fuels and inflammable gas
Kitchens, bathrooms equipped with gas device
Local garages with cars with LPG installation
School physical-chemical laboratories
Public areas
Each sensor CD-65A4 was tested in Polish laboratory for the operation correctnes. The following video shows the measurement procedure.