Product description: CircuitMess Ringo GSM education kit - for self-assembly + tool kit
A set based on ESP-32 module to create your own fully functional mobile phone. The phone makescalls, sends SMS messages or lets you play.Thanks to a dedicated graphic editoryou can program and adapt it to your needs.The set is additionally equipped with tools needed for its assembly.The set requires soldering, so for younger users it is necessary to help an adult, the expected time of building this module is about 5 hours.
What will
you

learn from CircuitMess Ringo GSM educational set for self-assembly ?
How to use the soldering iron correctly.
How basic electronic components work.
What are microcontrollers and basic elements of digital electronics.
How to program microcontrollers inC / C++ or Python.
How the phone functions work and how to use them.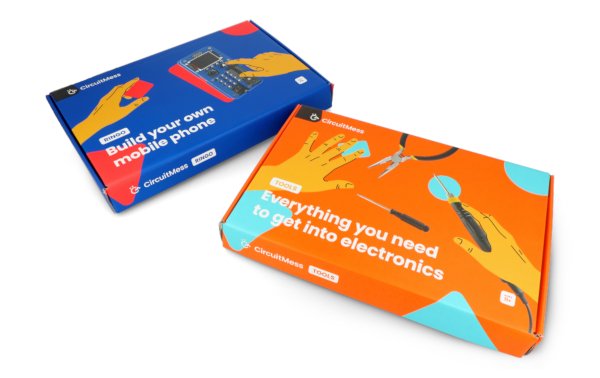 The set is varied with tools allowing for its assembly.
Programming CircuitMess Ringo GSM - an educational kit for self-assembly + a set of tools
The device is equipped with ESP32 module compatible with Arduino, thanks to which it gives great development possibilities and possibility to program it with Arduino IDE. The manufacturer has preparedCircuitBlocksblockcode editorbased on Scratch programming languageso that young users can learn the basics of programming in asimple and accessible way. CircuitMess Ringo is equipped withCircuitOS operating systembased onFreeRTOS, information about it can be found onmanufacturer's website.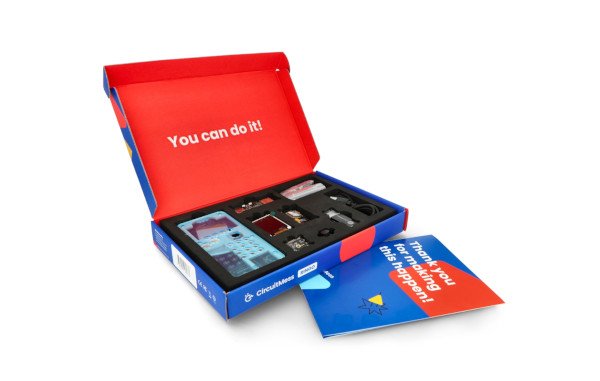 A cardboard box containing elements for building a phone.
Content of Circuitmess Ringo GSM educational kit - for self-assembly
The set includes a set of elementsfor self-assembly of a mobile phone. The set includes:
Ringo Board- the main board, which combines all the elements into a single device.
Ringo enclosure- an acrylic enclosure that protects the finished module from damage.
TFT LCD display- colour LCD screen with a resolution of 128 x 160 px.
GSM module- SIM800C module allows making calls and sending text messages.
Main module- a module equipped with ESP-32 enabling Wifi and bluetooth

communication

, the board has a built-in power supply.
Sound module- a board equipped with a DAC module responsible for chimes, alarms and sound effects. In addition, it has the ability to solder a 3.5 mm jack socket.
Amplifier module-

produces loud sounds.

Antenna- provides a perfect telephone signal. Antenna has an adhesive layer.
MicroSD 4GB card- preloaded with games and applications.
Accessories- bag with

small electronic accessories.

ZD-20U flask soldering iron-8 W soldering iron, powered by 5 V from

USB socket. Cable and power supply included.

Side cutters- in blue 130 mm long.
Screwdriver- small crosshead screwdriver 94 mm long.
Tin suction unit- u

Ruling for drainage of excess tin.

Length of device - 190 mm, diameter - 19 mm.
Straight pliers-

toothed jaw surface

pliers

with profiled cutting blades

. Black pliers 133 mm long.

Tin -8,3 g tin ball.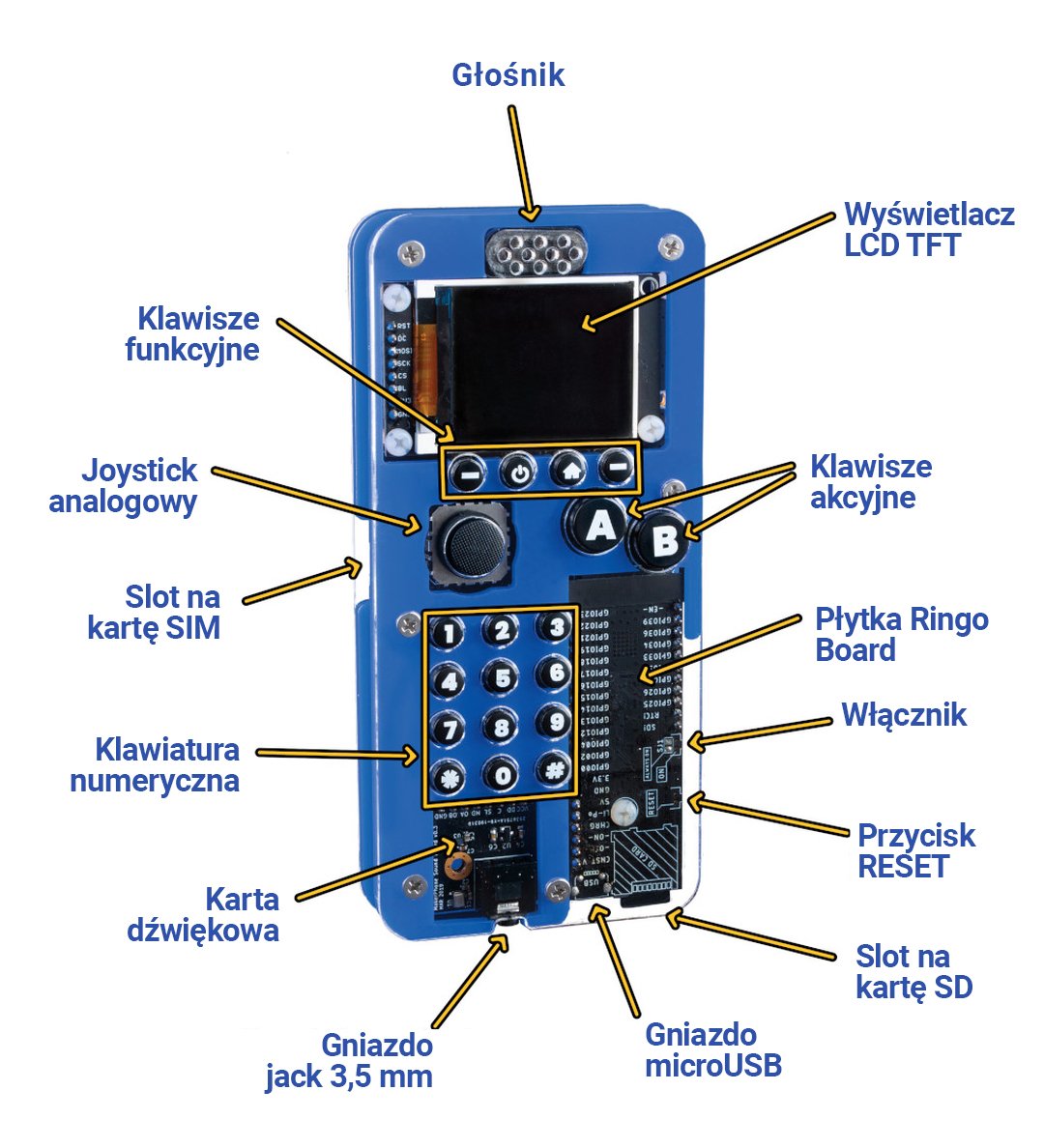 CircuitMess Ringo GSM.
Specification of Circuitmess Ringo GSM educational set - for self-assembly.
Main module: ESP-32

Microcontroller: Tensilica Xtensa LX6
32-bit
Clock: 160 MHz
600DMIPS
512 kB SRAM
4 MB FLASH

Display:

Type: LCD TFT 1.8" 160 x 128 px
Colours: RGB 16-bit
Refreshing: 25 fps (default), up to 50 fps
Adjustable backlighting

Sound:

TFA9882
10-bit DAC
Multi-channel WAV playback
2 W Class D audio amplifier
Connectors: 3.5 mm jack
Speaker: 1 W
Software-based sound control

Switches / Buttons:

Analogue joystick: 4 positions
12 numeric buttons
Button A (Confirmation of action execution)
Button B (Back)
4 programmable buttons

A microSD socket:

Supported file systems: FAT / FAT32
4 GB card included
Uploaded games and applications

Wireless network:

Wi-Fi: 802.11 b/g/n
Bluetooth: v4.2 BR/EDR and BLE
GSM module: SIM800C
Nest: microSIM

Power supply:

Battery: Li-Pol 3.7 V / 1300 mAh
Socket: microUSB

RTC

Built-in RTC clock DS1307