Product description: TFT display - 2,4'' 320 x 240 px - touch - overlay for Feather - Adafruit 3315
TFTtouchdisplaymade with resistive technology, manufactured by Adafruit. The screen diagonal is2.4''and the resolution is320 x 240 px. The size of a single pixel is0.153 x 0.153 mm. The display uses I2C bus to communicate with the main module. It has a built-in slot for amicroSD memory card, which makes it possible to create bitmaps. The display circuit is based on theILI9341controller. The display panel is equipped with usable RESET button, which is located on the bottom of the module.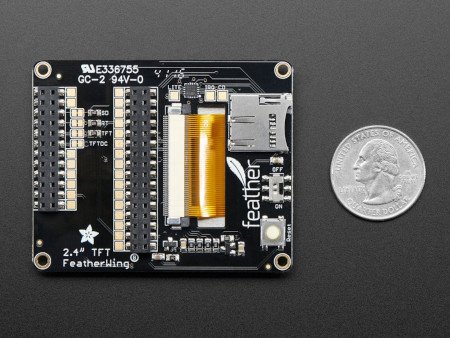 On the back of the panel, there are pins in the form of GPIO leads, a microSD memory card slot, and a RESET utility button.
Key pins description of the TFT display
3.3 V- 3.3 V power supply pin.
LITE- pin of screen backlight.
GND- chip ground pin.
MISO- SPI communication interface data line input pin.
SCK- clock line pin of SPI communication interface.
MOSI- output pin of SPI communication interface data line.
TFT DC- transmission select pin: data / command.
RT/ CS- chip select pin (activated by low state).
SD- pin supporting SD card.
Technical specifications
Compatible with Feather modules
Embedded chip: ILI9341
Display type: TFT SPI
Technology: resistive
Display diagonal: 2,4''
Display resolution: 320 x 240 px
Pixel size: 0,153 x 0,153 mm
Communication interface: SPI
Color depth: 16-bit
Built-in RESET button
Manual ON/OFF switch
Equipped with four mounting holes
Dimensions: 65 x 53 x 9.5 mm
Weight: 32,2 g