Product description: Goobay inductive QI charger 5 V / 1 A
Inductivecharger withQItechnology. Allows you to charge your smartphonewithout having to connect it with a wire. The output voltage is5 V, and the maximum current capacity of the charger is1 A. The subject of the sale is equipment manufactured byGoobay.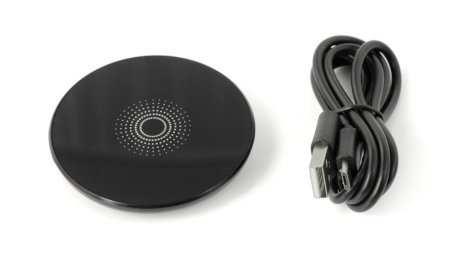 Goobay QI inductive charger 5 V / 1 A.
The charger works with phone models equipped with inductive charging option.
Technical specifications charger
Inductive charger
Input voltage: 5 V
Output: 5 V / 1 A
Built-in microUSB connector
MicroUSB to USB cable included
Dimensions: 68 x 68 x 11 mm
Weight: 40 g
Goobay inductive QI charger 5V / 1A
Inductive charging is currently an increasingly popular modern method of charging small electronic devices. Using wireless electricity transfer technology has many advantages.
The main advantage is lack of necessity to use breaking charging cable - these often become damaged after some time (under the insulation the wire is broken). A major advantage is also significantly reduced wear and tear on the charging socket, which is usually also used for wired connection to, for example, a computer.
Goobay charger
The offered inductive charger is a product ofGoobay- a product that uses QI technology to charge compatible devices. The word "Qi" is the name of the wireless electricity transfer technology (it comes from the Chinese word "Qi" - simply meaning the flow of life energy).
The offered charger should be plugged in via the built-in microUSB connector. The output voltage is 5 V at 1 A.