Product description: RJMP01-10 linear bearing for 3D printer
Smalllinear bearingused in3D printers. They are used to move elements that move linearly on the guides. The bearings are sleeve-shaped with characteristic notches inside. The product is made of plastic which is characterised by high strength and is completely resistant to corrosion. The bearing is self-lubricating so it does not require regular lubrification. It does not make any noise during sliding. The inner diameter of the bearing is10 mm.The product is mainly used in 3D RepRap printers.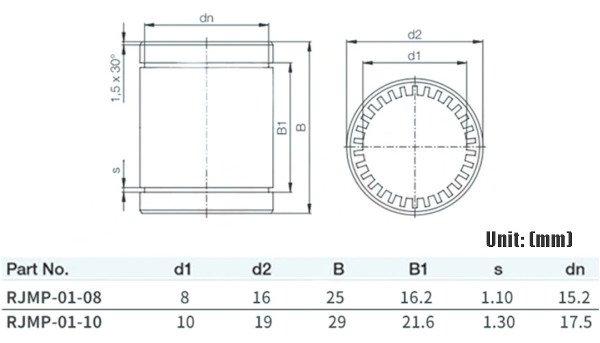 Detailed dimensions of the bearing. There is also available a sleeve withdiameter 8 mm.
Application of linear bearings
Linear bearings are used in numerous devices using linear displacement technology. The accuracy of movement of the individual sliding elements of the equipment depends on their precision. The bearings, which usually take the form of a small sleeve, can be found in
3D printers
CNC milling machines
Plotters
Sorters
Bearing specifications
Material: plastic
Self-lubricating bearing
Inner diameter: 10 mm
Outer diameter: 19 mm
Total height: 29 mm