Product description: Power strip with Armac R5 black security features - 5 sockets - 1.5 m.
The power striphas an anti-interference filter, is equipped with 5earthedsocketsandan illuminated main switch. It is supplied with 230 V mains voltage. The cable length is 1.5 m.The strip is universal, it can be used to power various types of electronic equipment.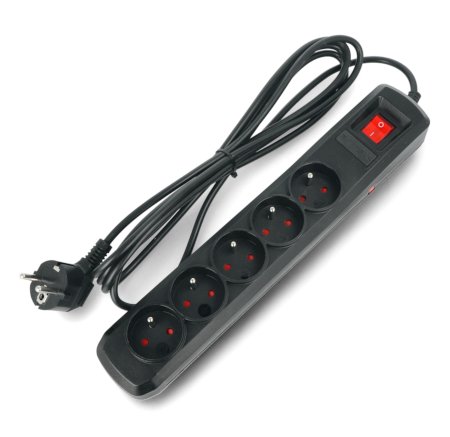 The power stripwith Armac R5 black protections - 5 sockets - 1.5 m.
Power strip specification
Manufacturer: Armac
Colour: black
Number of sockets: 5
Power supply voltage: 230 V
Power: 10 A
Type of fuse: fuse
Number of fuses: 1
Fuse response time: 25 ns
Security: anti-interference filter
Cable length: 150 cm
Dimensions: 290 x 45 x 50 mm
Weight: 0,22 kg