Product description: Programmable wireless Wixel module
Wixel module from the Pololu is a programmable wireless system of general use. It operates on the 2.4 GHz frequency. Programming is allowed by the displayed USB interface. The heart of the module is a microcontroller from the Texas Instruments: CC2511F32 (24 MHz, 4KB of RAM, 29KB of Flash) with integrated radio transmitter/receiver. At the user's disposal are also 15 I/o lines, including 6 analog outputs. To facilitate the use of the system, the manufacturer provides a user manual.
To create a wireless connection, required are at least two Wixel modules. For connecting the board with a computer using the USBA <-> miniUSB B cable.
On request, we can deliver assembled chip with the soldered connectors. For this purpose, please leave the details in comments to the order.
Key features of programmable wireless Wixel module
2.4 GHz frequency with 256 channels
Full-speed USB
Programming via displayed USB interface
It does not require additional programmer
It has protection against the reverse attaching of the power supply
The function of the USB - UART adapter
3 LED indicators
15 I/O lines, including 6 analog inputs
USART
SPI
Timer with PWM
Radio:

Frequency: 2400 – 2483.5 MHz
Range: about 15m
Speed: the possibility to configure up to 350 kbit / s
Effective data transfer rate up to 10 kbps
The system includes the drivers and configuration tools: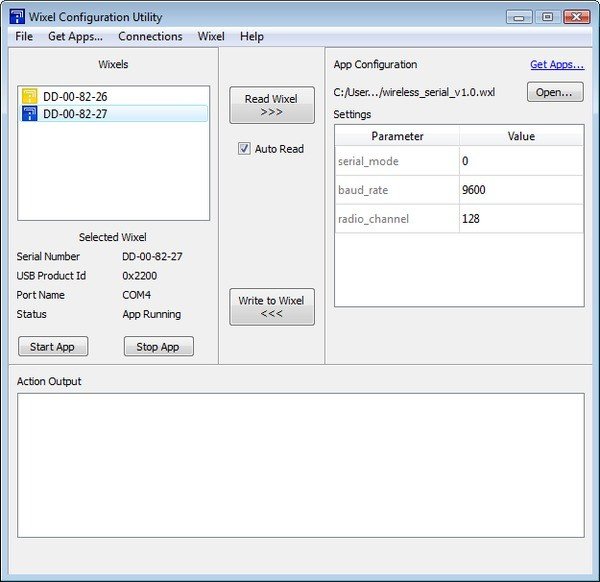 Configuration tool of the Wixel module.
Wixel as wireless serial port
Two modules can serve as wireless serial port and create a connection between a computer and a microcontroller located in, for example, a robot. It allows, i.a. for the distance data exchange or remote programming. The systems can be used as a communication system between robots. The speed of receiving or reading the data reaches 10KB/sec at a distance of about 15m.
The pins of the programmable wireless Wixel module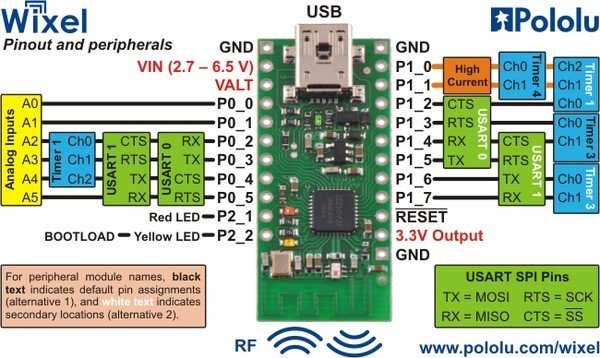 Specification of the programmable wireless Wixel module
Microcontroller: CC2511F32, 24 MHz
RAM: 4 KB
Flash memory: 29 KB
The number of I/O lines: 15
Supply voltage: 2.7 V to 6.5 V
Current consumption: approximately 30mA
Reverse power supply attaching protection

It does not require additional programmer

Dimensions: 18.8 x 38 mm
Weight: 3.2 g (without goldpin connector)