Product description: STM32F7 Discovery - Development kit with STM32F723 MCU
Startup kit with STM32F723 MC U microcontroller with ARM Cortex-M7 core, equipped with 512 kB of Flash memory and 192 kB of RAM in BGA176 package. It provides the user with a wide range of applications, gives access to audio and video functions, supports multiple peripherals and sensors, and provides high-speed connectivity. Equipped with specialized components. Supports PMOD, STMod+ and Arduino Uno V3 connections.
Kit contents
STM32F723E-DISCO module
Board for direct connection of expansion modules

The kit consists of the STM32F7223E main module and a board, designed for connecting to expansion modules.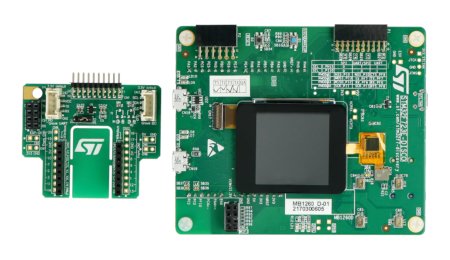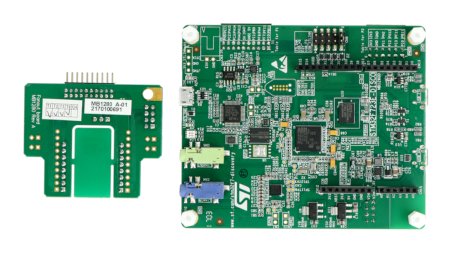 The module has a built-in touch screen display with a resolution of 240 x 240 px.
Technical specification of the STM32F723 MCU kit
Microcontroller: STM32F723IEK6

Core: ARM Cortex-M7
Number of bits: 32
Flash memory: 512 kB
RAM: 192 kB
Housing: BGA176

Built-in ST-LINK / V2-1 programmer and debugger

Programmer mode as virtual COM port, mass storage, debug port

Built-in touch screen display

Type: TFT LCD
Resolution: 240 x 240 px

SAI audio codec
Audio line input: Through 3.5 mm stereo jack connector
Headphone output: via 3.5 mm stereo Jack connector
Stereo speaker output
Microphone
Usage buttons
Quad-SPI Flash Memory: 512 MB
External PSRAM: 8 MB
Available connectors

USB OTG Full-Speed
USB OTG Hi-Speed

Power supply

External 3.3V or 5V power source
USB Full Speed connector
5V power supply from ST-LINK / V2-1 USB VBUS

Connector for ESP-01 WiFi module
PMOD port
STMod+ port
Supported software: IAR, Keil, GCC-based IDEa, ARM mbed
Full compatibility with a wide range of HAL libraries, which include many examples of using microcontroller peripherals and STMicroelectronics chips
Additionally included: board for direct connection of expansion modules (compatible e.g. with ESP-01)