Description: IoT button for AWS - Seeedstudio 102991334
Programmable WiFi button for use with theAWSplatform andAWS IoT 1-Clickservice. Works with official AWS IoT 1-Click applications for iOS and Android. Powered by aLi-IonNCR18650B battery (not included). There is a double-sided tape on the back of the device's housing for easy installation. The button supportsthree types of clicksand has3LEDsfor different notifications.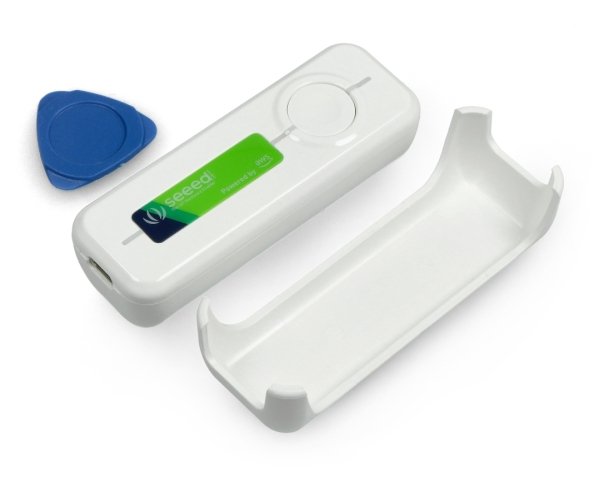 IoT button for AWS.
Main features of the IoT button
Works withAWS IoT 1-Clickservice
Supports single / double / long click
Built-in LED for power, event and WiFi connection
Built-in Realtek RTL8720DN chip for 2.4 GHz / 5 GHz WiFi connectivity
Powered by a Li-Ion battery
It has protection against incorrect polarity
Built-in charger circuit for the battery via USB C
Double sided tape holder
The layout of the components on the housing.
Application of the button
IoT button for AWS
Home control
Integration with external APIs
One-click order button for take-out
Netflix remote control
IoT AWS button specification
Communication system: Realtek RTL8720DN ARM Cortex M0 20 MHz and ARM Corex M4F 200 MHz
Flash memory: 4 MB
The lifespan of the button: 100,000 cycles
LED: RGB
WiFi: 802.11 a/b/g/n 2.4 GHz & 5 GHz
Bluetooth: BLE 5.0
Power supply: Li-Ion 18650 3.6 V battery (not supplied)
Charging interface: USB type C
The charging current: 500 mA
Charging time: 4 h to 6 h (depending on battery capacity)
Battery protection: against overcharge, too high current, too high discharge and incorrect polarity
Dimensions: 92 x 32 x 25 mm
The set includes
AWS IoT button
Tape holder
User guide
Push button housing opening device