Description: Tamiya 72001 planetary gearbox
The set includes a set of elements for building a planetary gearbox. User can choose from the following gear ratios: 4:1, 5:1, 16:1, 20:1, 25:1, 80:1, 100:1, 400:1.
Tamiya 72001 dimensions
The complex system fits into a 90 x 40 x 38 mm rectangle. Details are shown in the drawing: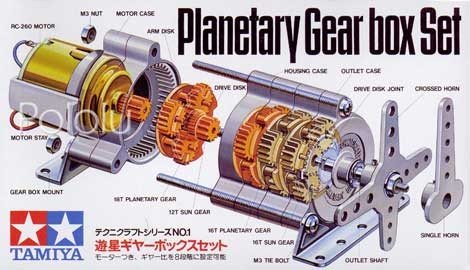 Control
The DRV8833 or DRV8835 series of modules available in our offer can be used for motor control . These systems allow you to supply motors with voltage from 2.7V, so that the gearbox will maintain full life. The user can also use the TB6612 controller, limiting the motor voltage with PWM signal. The controllers can be controlled by means of starter kits (e.g. Arduino, STM32Discovery or Rasbperry Pi minicomputer.

If you use your own PCB, we invite you to get acquainted with the offer of controllers in the form of integrated circuits in surface and over-soldering housings.
Gearbox specification 72001
Possible postponements: 4:1, 5:1, 16:1, 20:1, 25:1, 80:1, 100:1, 400:1
Shaft: round with 4 mm diameter
Mabuchi RC-260RSA engine ( documentation)
Motor supply voltage 3 V-6 V
Multi-stage, adjustable planetary gearbox
Tamiya's branded multi-stage planetary gearbox is designed for various RC models, mobile robots and small mechanisms. Thanks to its unique design, the user can select the required gear ratio by assembling the appropriate modules in series.
The set includes two 4:1 and two 5:1 modules, which gives a wide range of resulting combinations: 4:1, 5:1, 16:1, 20:1, 25:1, 80:1, 100:1 and 400:1. Each module is in fact a single gearbox, so the dimensions of the whole are relatively small - the maximum length (using all four gearboxes) is only 90 mm.
Other parameters
Tamiya 72001 - planetary gearbox is sold complete with DC motor RC-260RSA type by Mabuchi. The drive's power supply voltage ranges from 3 V to 6 V and the current consumption is typically 0.2 A (no load) to 3.8 A (in the locked shaft condition).
The gearbox is equipped with two solid, metal mounting brackets, each with 5 holes, spaced symmetrically over a distance of 40 mm. The output shaft has a diameter of 4 mm (the last 6 mm is an M3 thread, which makes it much easier to mount a wheel or a plough).