Description: Planetary gearbox Tamiya 72001
The kit contains a set of components for building a planetary gearbox. The user can choose from the following ratios: 4:1, 5:1, 16:1, 20:1, 25:1, 80:1, 100:1, 400:1.
Dimensions Tamiya 72001
The assembled system fits into a 90 x 40 x 38 mm cuboid. Details are shown in the drawing: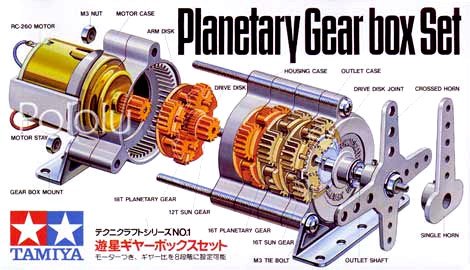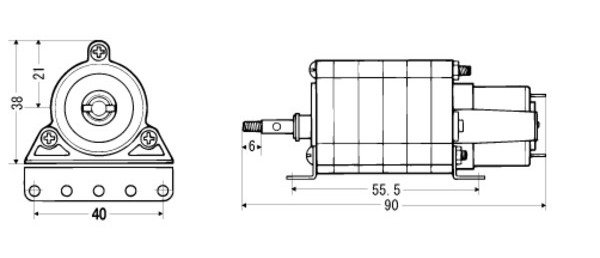 Control
To control the motors you can use our DRV8833 or DRV8835 series modules. These systems allow you to power the motor with a voltage from 2.7 V, so that the gearbox will maintain full life. The user can also use TB6612 controller, limiting the motor voltage using PWM signal. The controllers can be controlled using runtime kits (e.g. Arduino, STM32Discovery or Rasbperry Pi minicomputer.
Gearbox 72001 specification
If you are using your own PCB, please refer to the offer of drivers in the form of integrated circuits in surface mount and through-hole solder housings.
Possible gear ratios: 4:1, 5:1, 16:1, 20:1, 25:1, 80:1, 100:1, 400:1
Shaft: round with 4 mm diameter
Mabuchi RC-260RSA motor ( documentation)
Motor supply voltage 3 V-6 V
Multi-stage adjustable planetary gear
Tamiya's branded multi-stage planetary gearbox is designed for a variety of RC models, mobile robots and small mechanisms. The unique design allows the user to select the desired gear ratio by assembling the appropriate modules in series.
The kit includes two 4:1 and two 5:1 modules for a wide range of combinations: 4:1, 5:1, 16:1, 20:1, 25:1, 80:1, 100:1, and 400:1. Each module is actually a single recirculating gear, making the overall dimensions relatively small - the maximum length (using all four component gears) is only 90 mm.
Other parameters
Tamiya 72001 - the planetary gearbox is sold complete with a Mabuchi RC-260RSA type DC motor. The drive supply voltage ranges from 3 V to 6 V, while the current consumption is typically between 0.2 A (no load) and 3.8 A (when the shaft is locked).
The gearbox is fitted with two robust metal mounting brackets, each with 5 holes, symmetrically spaced at 40 mm. The output shaft has a diameter of 4 mm (the last 6 mm are M3 threads, making it much easier to mount a wheel or an orb).
Planetary gearbox - a timeless technology
There are technical solutions which, although they are centuries old, have gained so much recognition that they are still used today in an almost unchanged form. Such solutions include, among others, planetary gears, which can be found in numerous constructions of hand-held power tools, motor vehicles, 3D printers and robots. This patented mechanism is still popular among designers of mechanical systems and others.
How does a planetary gearbox work?
A planetary gearbox is a gearbox with an input and output shaft aligned. A planetary gear is used to transmit the most torque in the most compact form (known as torque density). The acceleration hub of a bicycle is an excellent example of a planetary wheel mechanism. A three-speed hub uses a single-stage planetary gear, a five-speed hub uses a two-stage planetary gear. Each planetary gear arrangement has a reduction state, direct coupling and acceleration mode. A similar design is also found in automotive gearboxes.