Attention!
The product has been discontinued. Check other products in category.
Product description: HiFiBerry AAmp 60 - analog class D amplifier 60 W - for DAC+ADC (Pro) / DAC2 HD sound cards
AnalogamplifierforHiFiBerryDAC+ADC / DAC+ADC Pro and DAC2 HD sound cards which have the necessary analog connector. The power of the amplifier is60Watts. The supply voltage should bebetween 12 V and 20 V. Thepower supplyused for this purpose will provide power to 3 modules simultaneously: Raspberry Pi,DAC sound cardandamplifier.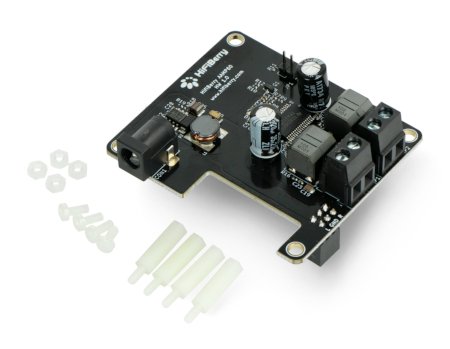 Mounting parts are included - spacers and screws.
Technical specification
Supply voltage: from 12 V to 20 V
Power: 60 watts
Compatible with:
Dimensions: 90 x 60 x 30 mm
Weight: 45 g