Attention!
The product has been discontinued. Check other products in category.
Product description: Qwiic digital capacitor - NCD2400M - SparkFun SPX-17182
A module from SparkFun'sSparkXseries of experimental products. A digitalcapacitorbased on theNCD2400Mchip, which when soldered to a 0603 or 0402 chip and connected via the Qwiic connector using a suitable cable with a board equipped with the same connector, allows the capacitance to be setfrom 1.7 pF to 200 pF. It also allows you to set shunt or serial configuration mode and make writes to fugitive or non-volatile memory.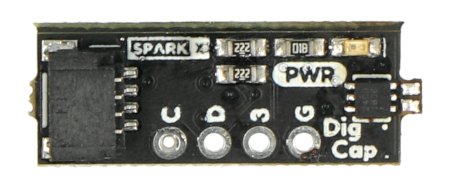 NCD2400M Qwiic Digital Capacitor.
SparkFun Qwiic connection system
TheSparkFun Qwiic interconnect system is an ecosystem ofsensors, actuators, overlays and I2C cables for simple and fast, low-error interconnection. All boards equipped with the Qwiic connector feature a4-pinJSTconnectorwith a1 mmraster. Thanks to this solution, the connector does not take up much space on the board and prevents reverse connection of the plug, minimizing the risk of error when connecting the wires.
Digital potentiometer specifications
Connector: Qwiic
Capacitance: adjustable from 1.7 pF to 200 pF
Circuit: NCD2400M