Description
Polol's programmer is compatible with the popular STK500. It can be used to program AVR family microcontrollers viamicroUSB cable (sold separately). Version 2 has two KANDA 6 pin connectors and a female gold pin strip. It has a possibility of supplying the target circuits with 5V and 3.3V.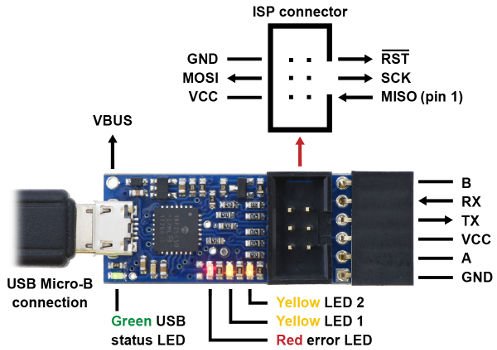 The layout of the components on the programmer board.
Main features
Programmer connected to the computer via the microUSB socket(the microUSB cableis not included, can be purchased separately)
The device is compatible with the popular STK500 programmer, in a system visible as a virtual COM port.
It has drivers for Windows, MAC OS and Linux
Supports popular AVT development environments, including: Atmel Studio, AVRDUDE and Arduino IDE
Works with 3.3 V and 5 V - the correct value is selected automatically
It has a built-in USB converter - TTL (RX, TX) and 100 kHz clock output
I/O pins are protected by 470 resistors
The device has two types of connectors:

canda 6 pin
goldpin raster 2.54 mm 6 pin

The manufacturer provides a comprehensiveuser guide
Microcontrollers supported
The programmer supports AVR family microcontrollers, with an ISP (in-system programming) interface called target programming (ICSP). These include the ATmega and ATtiny series. The devicedoes not work withTPI (Tiny Programming) interface and microcontrollers from XMega 32-bit series.
Included
Programmer compliant with STK500
2x3 pin connector for frame cable