Attention!
The product has been discontinued. Check other products in category.
Product description: SkyWalker brushless motor controller 40A ESC UBEC 2-3S
Brushless motor driver with current up to 40A. Optimal power supply are 2S - 3S li-pol packs (7.4 V to 11.1 V). It has a UBEC 5 V / 3 A regulator.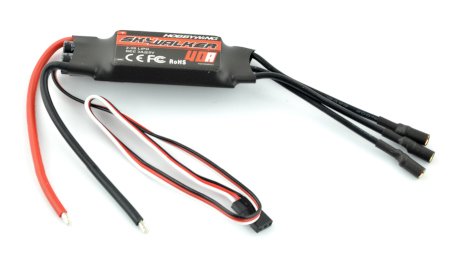 SkyWalker 40A ESC UBEC 2-3S brushless motor controller.
SkyWalker 40A ESC UBEC 2-3S brushless motor driver specifications
Operating voltage: LiPo 2-3S (7.4 - 11.1 V)
Continuous flowing current: 40 A
Max. instantaneous current flow: 50 A / 10 sec.
Supported batteries: 2-3 S Lipol, 5-12 S NiMH
Safe start: the motor will not start immediately after connecting the battery
Thrust calibration: linearly configurable, compatible with all available transmitters
Maximum speed:

210,000 rpm: 2-pole motor
70 000 rpm: 6-pole motor
35 000 rpm: 12-pole motor

Length: 68 mm
Width: 25 mm
Height: 12 mm
Weight: 43 g

Deans plug x3
Connector 3-pin raster 2.54 mm
Cables with stripped insulation
Programmable operating modes of the regulator
Brake: on / off
Battery types: Li-xx (LiIon, LiPol) / Ni-xx (NiMH, NiCd)
Low voltage protection: power reduction / full cut-off
Low voltage protection threshold: low / medium / high
Start mode: normal / soft / very soft
Packet cell number selection: automatic / manual
Reset: reset to default values