Product description: Li-Pol / Li-HV /Li-Ion /Li-Fe / Ni-Cd / Ni-MH charger with SkyRC IMAX B6AC v2 USB balancer with built-in power supply
SkyRC IMAX B6AC v2 is a simple and universal charger that works with most cells used in robotics and modeling. A large, legible display with an intuitive user interface allow you to select the appropriate parameters and constantly monitor the battery status during charging. A set of adapters ensures trouble-free charging of LiPo, LiHV, LiIon, LiFe cells as well as NiCd, NiMH and Pb packages.
The built-in balancer guarantees proper and even charging of all cells in the packages. The charger also has the ability to connect to a computer via the microUSB socket to control the parameters. The v2 version has a LiPol battery meter, internal resistance meter, terminal voltage control, PC control with available firmware updates and the ability to control via WiFi using an additional module.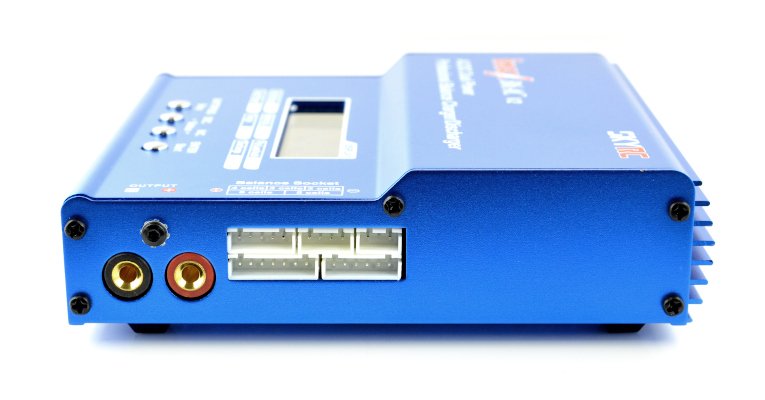 The charger has a built-in 230 V mains adapter.
SkyRC IMAX B6AC v2 charger specification:
2 charger power options:

AC: 100 V to 240 V (built-in power supply)
DC: 11V to 18V

Output power:

charging power 50W
discharge power 5 W

Charging current: 0.1 A to 6.0 A
Discharging current: from 0.1 A to 2.0 A
Number of supported NiCD/NiMH cells: from 1 to 15 cells
Number of supported Li-Po/Fe/Ion/HV cells: from 1 to 6 cells
Supported Pb/Gel batteries: 2 V to 20 V
Supported latest Lithium cells: LiHV
Can be connected and controlled via a computer
Software update possible
LiPo battery meters
Internal resistance meter
Possibility to update the firmware
Can be operated via WiFi with an additional module (not included)
4 programming buttons
Weight (without cables): 632 g
Dimensions: 144 x 135 x 36mm
Built-in sockets:

sockets for balancer adapter + 2-6S adapter
sockets for DEAN plug for charging (suitable grommets are included)
Jack socket (12V DC power supply)
figure-of-eight socket (mains cable included)
socket for an optional temperature sensor
microUSB socket
Kit contents
SkyRC IMAX B6AC v2 charger
Banana adapter -> DEANS male (adapter for connecting other adapters)
DEANS adapter -> crocodile clips
DEANS adapter -> servo socket
Adapter DEANS -> XT60
Adapter DEANS -> 2-pin raster 2.0 mm to Li-Pol 3.7 V
Crocodile clip adapter -> Jack (to power the charger from a 12 V battery)
English user manual