Product description: Grove - L298N - 15V/1A dual channel motor controller
Grove series module equipped with two-channel H-bridge L298N, controlled by ATmege 8L, which communicates via I2C bus with Arduino for example. The circuit allows to regulate the direction of rotation of motors with maximum current consumption up to 1 A and supply voltage up to 15 V. The module gives the possibility to control two DC motors or one stepper motor at a time. It has a digital output, making it compatible with most startup modules, including Raspberry Pi and Arduino.
Connection
The module comes with a Grove interface making it easy to connect it to an Arduino along with the Base Shield v2.0 overlay or Raspberry using the GrovePi+ Hat.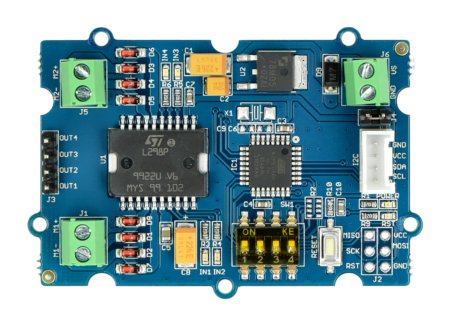 | Pin | Description |
| --- | --- |
| VCC | Supply voltage: from 3.3 V to 5 V. |
| GND | System ground. |
| SCL | I2C interface clock line. |
| SDA . | I2C interface data line. |
Specification
Operating voltage: from 6V to 15V
Maximum output current: 1A
Input / output voltage on I2C bus: 5 V
Communication: I2C interface
Cable for connection to Base Shield v2.0is included
Dimensions: 60 x 40 x 10 mm
Weight: 22 g