Specification
The supply voltage VCC 5 V
Activated by the low status
Relay: SRD-05VDC-SL-C (documentation)

Coil voltage: 5 V
The maximum voltage of contacts: 250 VAC, 30 VDC*
Maximum current: 10 A

Optoinsulation EL817 (documentation)
The dimensions of the board with the case: 110 x 60 x 35 mm
Diameter of mounting holes: 4 mm
The distance between the mounting holes: 95 mm and 39 mm
* Maximum contact voltage depends on the type of load - details inthe documentation, tab. 7. Contact Rating.
Description
The module allows to control the actuators consuming the current up to 10 A using the microcontroller's port or any development kit (includingArduino,Rasbperry PiandSTM32Discovery). Optoinsulation separates the control signal from the part associated with powering the relay, thereby providing work safety of the management system. The set includes the Grove cable.
Connection
For the proper operation, it is sufficient to connect the power to the relay coil and the digital control signal. Pins are the standard Grove 4-pin cable that allows you to connect the relay to the Base Shield v2.0 board.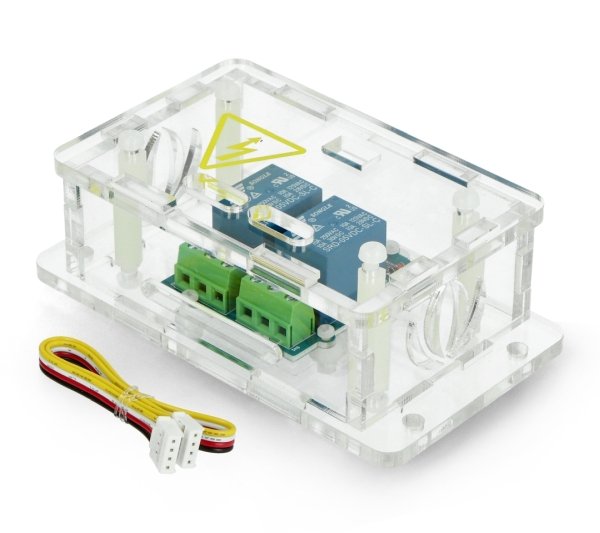 The module has a case for self-assembly
The relay has the following pins
VCC- the power of the module
SIG1, SIG2- control inputs of the relay activated by the low status
GND- ground of the system, all the GND pins are connected together
KF (ARK) connectors- the relay contacts are connected in accordance with the pattern on the board of the module.
Examples of application
Driver of the lighting
The driver of the executive systems
Switch for electric devices, including motors
Included
Relay module, 2-channel
Transparent case
Grove 4-pin cable
Mounting components
Installation manual