Description
Module with audio amplifier class D MAX98306. Small power losses, that is small heat generation and longer battery life. It allows you to connect3 Ohm speaker with the power to 3.7 V.
The system inputs are differential, a safety input signal from the primary circuit, for example the available in our store Arduino Mp3 Shield. In the absence of a device with differential outputs, connect pin Audio to the ground.
The output of module is "Bridge Tied" type. This means that the output contacts are connected directly to contacts of the speaker, without connecting to the ground. The output is a PWM signal with a frequency of 250 kHz, which is avaraged through the coil dynamics - high frequency is not audible. For module, it is not possible to connect another amplifier. It should lead directly to the speakers.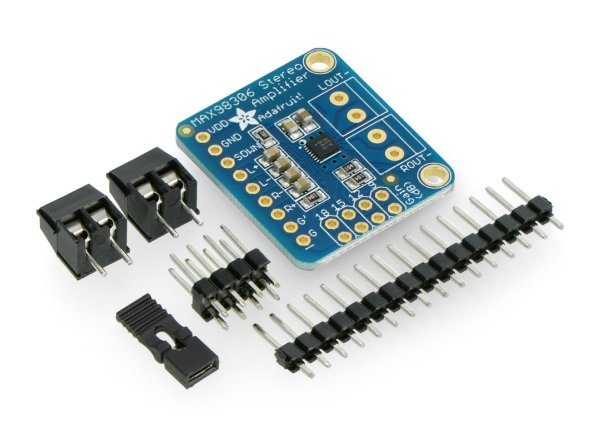 The kit includes connectors forself-soldering.
Specification
Supply voltage: 2.7 V to 5.5 V
Low energy consumption; 2 is at rest and 10 µa in sleep mode
Power: 3.7 W (3 Ohms)
Class D amplifier
Protection against short circuit and too high current
Recruited 5 gain: 6 dB / 9 dB / 12 dB / 15 dB / 18 dB
83 dB PSRR 217 kHz
Overheat protection and short circuit protection
Complete goldpin connector and screw connection for self-soldering
Dimensions: 28 x 24 x 3 mm
Weight: 2,33 g