Product description: pHAT Stack - pin expander for Raspberry Pi - solder kit - Pimoroni PIM321
The pHAT Stack board connects to the Raspberry Pi via a 40-pin cable and increases the minicomputer's pin count byan additional five 40-pin goldpin strips. You can connect5 pHAT capsor3 standard HAT capsto the pHAT Stack module. The board itself comes with 6 goldpin strips equipped with 40 male goldpin pins. The kit comes with six 40-pin male goldpin strips, a 40-pin cable to connect the board to the Raspberry Pi, black spacers with screws, and four rubber feet. The board requires you tosolderthe goldpin pinsyourself. Before connecting more pads you should check for collision usingpinout.xyzorpHAT Stack configurator. All pins on the board are signed, which makes finding the right pin on Raspberry Pi much easier.
The manufacturer has prepared auser guideto help you get started with the pHAT Stack board.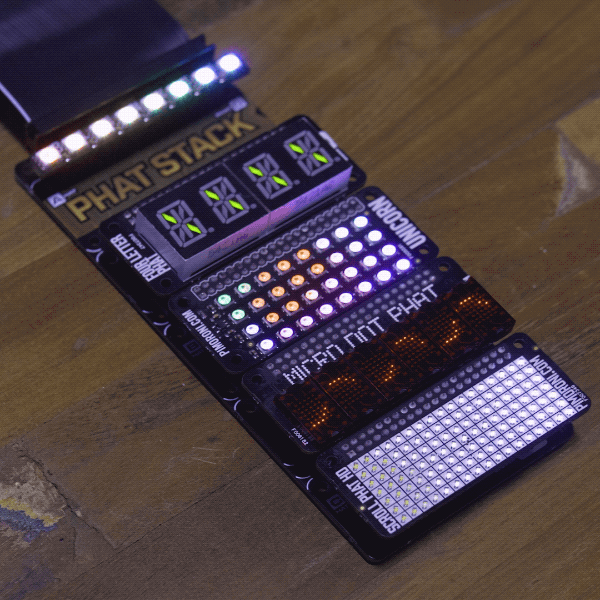 Example of using pHAT Stack.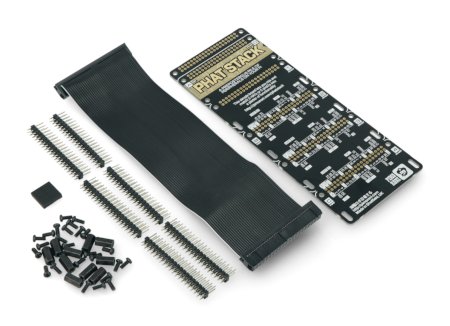 Included with the pHAT Stack are goldpin strips, spacers and a connection cable, 40-pin.
Main features of the pHAT Stack board
5 pieces 40-pin (2 x 20-pin) connectors (plus one to connect to Raspberry Pi)
M2.5 mounting holes for HAT and pHAT caps
Convenient, handy pinout
All pins on the cap are labeled, making it easy to find the right connector
Soldering required
When soldering, take care not to short-circuit the pins
Board dimensions: 162 x 65 x 1.75 mm
Contents of the pHAT Stack
pHAT Stack PCB
6x 2x20 male GPIO pins (for self-soldering)
5x pair of black spacers with screws
4x rubber feet to prevent the board from moving
40-pin cable for connection to Raspberry Pi