Description
Station 853D5A is the combination of hot air iron, tip-based soldering iron and power supply 30V/5A. The device has a smooth adjustment of power and temperature of the airflow and temperature adjustment of the tip with the buttons. The parameters are displayed on LED displays.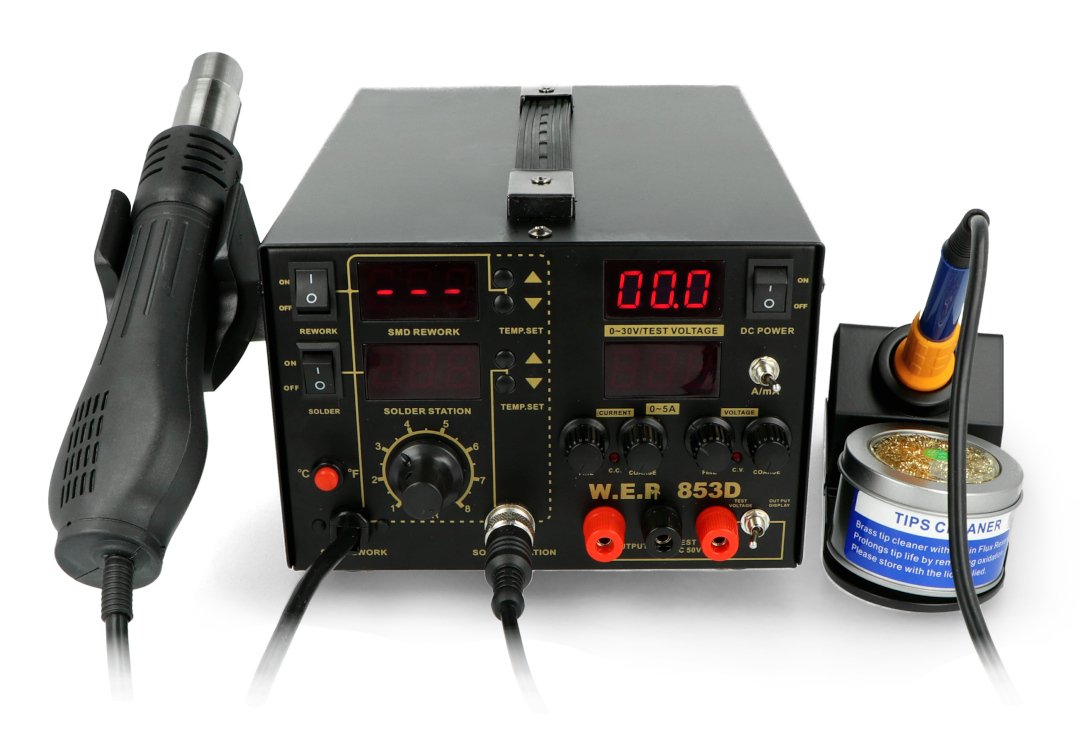 The station is controlled by a microcontroller, it has a cooling system of the heater before shutting down and remembers the set temperature. It allows for reading the real temperature of the hot air. All of the five modules can work independently.
Specification
Supply voltage: 230 V / 50 Hz (network)
The station is controlled through a microcontroller that provides high stability
Remembers the set temperature
Compact design with LED displays
Dimensions: 185 x 175 x 25 mm
The weight: 4.2 kg
Soldering Iron Hotair:

Blowing air through the fan brushless

Adjustable temperature hot air in the range: 100 to 480 °C
Temperature stability: +/-1 °C
Maximum air flow up to 120 l/min
Temperature setting buttons,
Adjustable air supply with regulator
Soldering Iron Tip-based

Adjustable temperature of soldering tip: 200

°C

to 480 °C
Temperature stability: +/- 2 °C
Soldering iron power: 50 W

Heating element: ceramic
Power supply

Output voltage: adjustable DC 0 to 30 V
Maximum current: adjustable from 0 to 5 W
Temperature coefficient : <300ppm/°C
Coefficient ripple : <1mvrms
Setting: coarse/fine
Includes:
Station WEP 853D5A
Stand for the hotair iron
Set of nozzles:

round with a diameter of 4.4 mm
round, with a diameter of 7.0 mm
round diameter 9.0 mm


round diameter 12 x 12 mm

Stand for the tip-based iron along with a cleaning sponge
Soldering iron withtip T-B
A gripper for lifting circuits
Power cable
First run
You should not run the device immediately after delivery.
Equipment must remain for about 12 hours at room temperature before switching on.
All complaints caused by running of the equipment too soon will be denied.
You must completely remove the screw/screws from the bottom station if the source of air supply is the compressor. These screws are marked in red (1 or 3 screws depending on model).
Our range of accessories for soldering: