Product description: Proxxon tool set PR23080 - 1/4'' - 36 items
Proxxon brandtool set for precision mechanics consists of 36 items. The set includes a 1/4" ratchet, sockets from 4 mm to 13 mm, screwdriver bits for regular, PZ and TX screws, sockets with Allen bits, as well as 5 Allen wrenches, curved: 1.25 mm, 1.5 mm, 2 mm, 2.5 mm and 3 mm. In the case you can also find a toggle connector, two 1/4" extensions and a 1/4" screwdriver.
Proxxon set closed in a suitcase.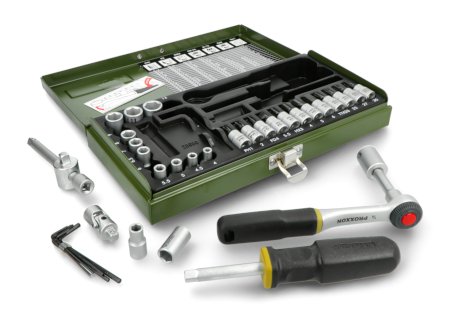 The elements are made of high quality materials.
Proxxon sets for professionals
Proxxon wrenches and tools are manufactured in one of the largest factories in the world in accordance with the latest technology and DIN/ISO standards. The company is headquartered in Germany, where continuous work is carried out on increasing the strength of tools and a new design to transfer greater force while maintaining edges and corners. The parts are made from CrV 31 CrV 3 steel with high carbon content to increase the hardness of the parts made. The ratchet is made from one piece, without welding, with a large number of teeth interlocking at the same time, allowing extreme torque to be transmitted.