Product description: Archer T2U Nano network card
Archer T2U supports two bands of wireless network operation. The data transfer speed in the band of2.4 GHzis200 MB/sec, and in the band of5 GHz, the speed is433 MBPS.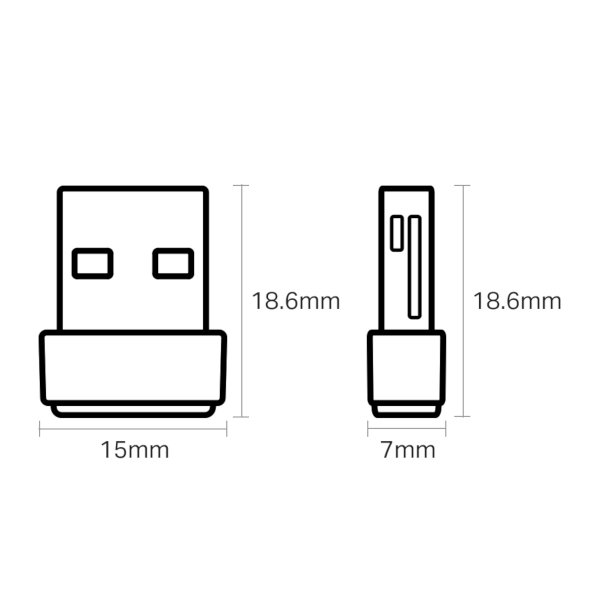 Nano wireless USB card is perfect in the case when the card in your computer does not support 802.11 AC standard - just plug it to any USB 2.0 port. Due to its size, it does not require removing before you pack the laptop during travel.
Specification of the network card
Ports: USB 2.0
Antenna type: Omni-directional
Standards of the wireless network's operation:

IEEE 802.11 ac, IEEE 802.11 a,

IEEE 802.11 n, IEEE 802.11 g, IEEE 802.11 b

Operating frequency 2.4 / 5 GHz

Data transfer rate:
| 2.4 GHz | Transfer speed | 5 GHz | Transfer speed |
| --- | --- | --- | --- |
| 11n | up to 200 Mbps (dynamic) | 11ac | up to 433 Mbps (dynamic) |
| 11g | up to 54 Mbps (dynamic) | 11n | up to 150 Mbps (dynamic) |
| 11b | up to 11 Mbps (dynamic) | 11a | up to 11 Mbps (dynamic |
| 2.4 GHz | The receiver's sensitivity | 5 GHz | The receiver's sensitivity |
| --- | --- | --- | --- |
| 11b 1 Mb/s | -96 dBm | 11a 6 Mbps | -90 dBm |
| 11b 11 Mbps | -88 dBm | 11a 54 Mbps | -73 dBm |
| 11g 6 Mb/s | -89 dBm | 11n HT20 MCS0 | -89 dBm |
| 11g 54 Mbps | -74 dBm | 11n HT20 MCS7 | -70 dBm |
| 11n HT20 MCS0 | -89 dBm | 11n HT40 MCS0 | -86 dBm |
| 11n HT20 MCS7 | -72 dBm | 11n HT40 MCS7 | -67 dBm |
| 11n HT40 MCS0 | -86 dBm | 11ac VHT80 MCS0 | -82 dBm |
| 11n HT40 MCS7 | -66 dBm | 11ac VHT80 MCS9 | -56 dBm |
EIRP: < 20 dBm
Mode of the wireless network's operation: Ad-Hoc / infrastructure mode
A wireless transmission's security:

WEP 64 / 128 bits, WPA-PSK/WPA2-PSK, 802.1 x

Modulation:

DBPSK, DQPSK, CCK, OFDM, 16-QAM, 64-QAM, 256-QAM

Dimensions: 15 x 7.1 x 18.6 mm
Package contents
Nano wireless network USB card AC600
CD
The quick installation guide