Product description: DC motor with gear 1:90 3-6V with double shaft - Bi-Metal
High qualityDC motorwith 1:90 gear ratio. It is powered with a voltagefrom 3 V to 6 V.The unique feature of the product is the motor shaft that protrudes on both sides of the device. The shaft is made of metal and is "cut" on both sides, making it easier to transfer its rotation to another mechanism. The offered DC motor is perfect for small devices, for example for mobile robots. Its small size (70 mm x 22 mm x 22 mm), combined with great possibilities and low price, make it perfect for example as an engine in aline followervehicle or arobot thatavoids obstacles.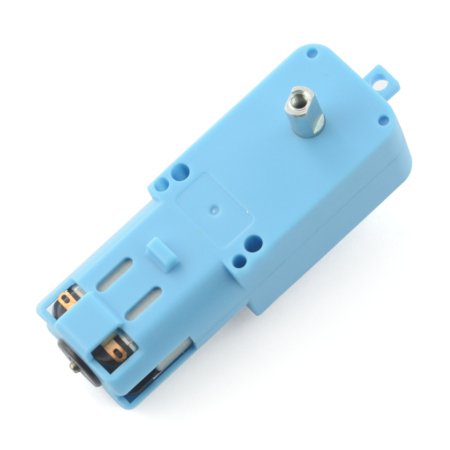 DC motor with gear.
Technical specification of the engine
Supply voltage: 3 V to 6 V
Power consumption:

3 V: 80 mA (0.5 A with the shaft stopped)
4.5 V: 90 mA (0.8 A with the shaft stopped)
6 V: 100 mA (1 A with the shaft stopped)

Gear: 1:90
Rotation speed:

3V: 60 rpm
4.5 V: 90 rpm
6V: 120 rpm

Shaft type: metal
Gear: Bi-Metal
The shaft is chamfered on both sides
The engine has a double shaft
Dimensions: 70 x 22 x 22 mm
Double shaft DC motor
The rotational speed of the engine depends on the voltage supplied - at approx. 3 V, the speed will be 60 rpm, at 4.5 V it will be approx. 120 rpm, and at 6 V, it will be 120 rpm. By using such properties, you can easily control, for example, the speed of a moving mobile robot. The motor has a double shaft protruding from both sides of the machine. For the robot to run straight, the wheels on one axis must move at the same speed and in the same direction. Therefore, the presented motor will be perfect for this purpose, because it allows the rotational speed to be transferred directly from the shaft to two sides of one axis.
It is also worth paying attention to the relatively low power consumption of this model. In the case of a voltage of 3 V the motor will consume about 80 mA, at 4.5 V - 90 mA, and at 6 V - 100 mA. The relatively low power consumption will probably allow the entire device to work longer on one power source (for example, on a battery).