Attention!
The product has been discontinued. Check other products in category.
Description: Lafe ROSA cosmetic mirror - with 28 LED lighting - white
ROSA cosmeticmirror isan essential pieceof equipment for every woman. It has a built-in backlight consisting of up to 28LEDslocatedaround the surfaceof the mirror, so that light is distributedevenly. Built-in LEDs emitwhite lightproviding excellent visibility andproper lightingof every part of our face, neck and cleavage. They also providerealistic color reproduction. ROSA has appropriately selected foot height andangle adjustment, which makes it extremely comfortable to use. It is also equipped with astandwith a special recess, which can be used as a handy tray for small cosmetics. It can be used for make-up application at home, but thanks to its small size it is also suitable fortravelling.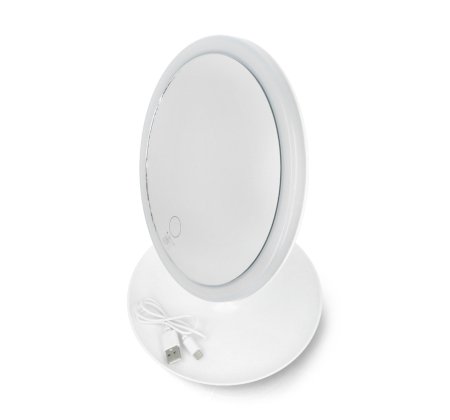 It has a removable leg and adjustable angle, which will allow you to set the mirror according to individual needs.
Features
Mirror with illumination consisting of 28 LEDs
White light and circular arrangement of LEDs evenly illuminate each area of the face
Adjustable height of the leg, which can be removed, and an adjustable angle of inclination of the mirror
Built-in stand with an indentation that can be used as a stand for small cosmetics or jewelry
Suitable for both home and travel
Built-in 1200mA rechargeable battery with included mciroUSB cable
Set contents
ROSA cosmetic mirror with illumination
MicroUSB charging cable
Technical Specifications
Illumination with non-replaceable LEDs
LED parameters: LED 2835 SMD
Number of LEDs in the mirror: 28
Colour temperature: from 6000 K to 6500 K
Luminous Colour: white
Luminous flux: from 22 lm to 24 lm
Start time: < 2 s
Luminous angle: 120°
Power supply: 1200 mAh rechargeable battery
Charging: via microUSB port (dedicated cable included)
Supply voltage: 5 V / 1 A DC
Current consumption: 1 A
Power: 5 W
Power factor: 0.4
95% luminous flux value: < 2 s
60% of luminous flux: < 1 s
Number of recommended uses (ON-OFF): approx. 10 000
Material of construction: Glass + ABS
Mirror dimensions: 180 x 280 mm
Mirror weight: 338 g