Attention!
The product has been discontinued. Check other products in category.
Description
A small module with a microcontroller AVR Atmega 32u4. Feather is designed for portable projects. Thanks to the microUSB connector and uploaded bootloader, the module can be programmed directly fromthe Arduino IDE environment. Board has a small size (51 x 23 x 8 mm) can be powered by voltage from USB port or from rechargeable Li-Pol battery3,7 V Li-Pol. The module has built-in Bluetooth 4.1 BLE, so it can become the wireless control center.
Mobile projects
Controller Feather is designed for mobile projects. Thanks to the integrated connector, it is possible to power it from the rechargeable Li-Pol battery3.7 V. The battery voltage was led through an analog pin, so you can constantly monitor the state of charge of the lipol. Also available is powering from the microUSB port.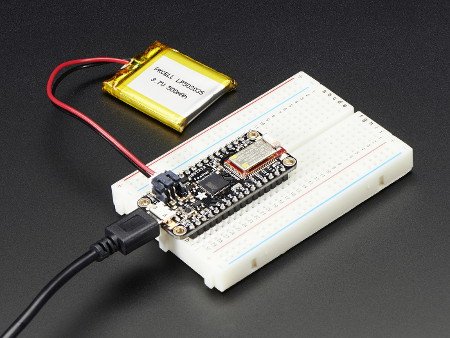 Programming (Arduino IDE)
The module can be programmed using the Arduino IDE. For this, you will need to configure the software in a wayprovided by the manufacturerand connect the board using the microUSB cable.The settings of the Arduino IDE are available on the website of the manufacturer.
Specification
Supply Voltage: Li-Pol 3.7 V or USB 5 V slot
Microcontroller AVR Atmega32u4 3.3 V:

Flash memory: 32 KB (2.75 kB of which is occupied by the bootloader)
SRAM: 2 KB
Clock frequency: internal oscillator 8 MHz

Built-in Bluetooth BLE 4.1
Driver: Bluetooth system

Nordic nRF51822

Installed Arduino bootloader
Works with a modified version of theArduino IDE
ConnectormicroUSBfor programming, in our assortment, you will find the necessary wire
Installed 3.3 V voltage regulator with current delivery up to 500 mA
Power supply from USB port or with a Li-Pol battery 3.7 V
20 GPIO pins
8 PWM pins 
10 analog inputs (one for the battery voltage measurement)
Interfaces: UART, I2C, SPI
Built-in lipol charging module 100 mA with LED indicator, which informs about the status
LED for pin 13
The reset button
Included are goldpin strips for self-soldering
Dimensions: 51 x 23 x 8 mm
Weight: approx 5.7 g