Product description: Battery charger for AA/AAA batteries - Extreme XN-101 USB
Batterycharger for AA/AAA type Ni-MH and Ni-CD batteries. It allows you to charge one cell, and its output voltage is equal to 1.2 V. The current is supplied through a USB type A connector. The input parameters are 5 V DC / 300 mA.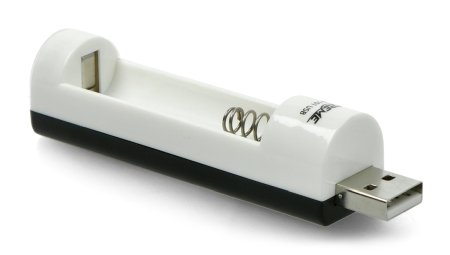 Battery charger from Extreme.

The charger has one charging channel.
Technical specifications
Input: 5 V DC / 300 mA
Output: 1.2 V DC AA / AAA
Number of charging channels: 1
Compatible battery models: AA / AAA type Ni-MH / Ni-CD
Storage temperature: from 0°C to 40°C
Operation temperature: from 0°C to 35°C
Charge level indication: LED*.
*LED does not switch off automatically after charging