Product description: 12 V / 0.8 A / 7-14 Ah gel battery charger
Battery chargerfor 12 V DC gel batteries from 7 Ah to 14 Ah. Powered by 230 V mains voltage, with a maximum output power of 30 W. The device is protected against overload, short circuit and reverse polarity connection.
Directions for use
Connect the cables to the charger
Connect the charger to the power supply
Connect the battery to the charger
The charging process will begin
When charging is complete the green indicator light will illuminate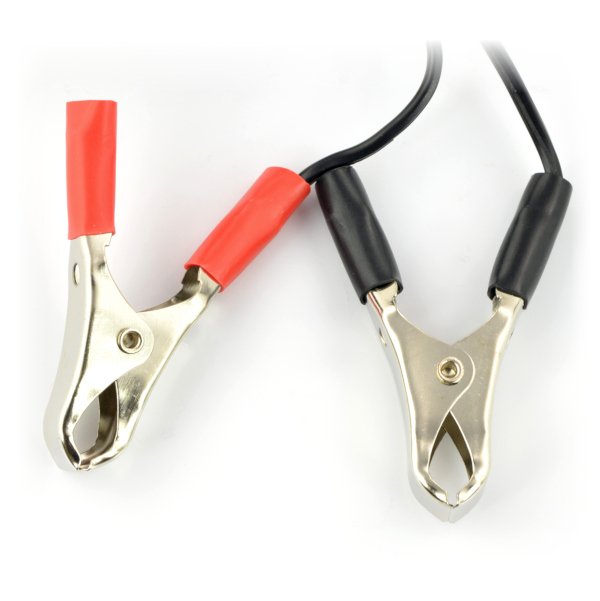 The charger has crocodile connectors.
Incl.
Battery charger for gel batteries
Set of connecting cables (including crocodile connectors)
Cable for 230 V socket
Charger specifications
Supply voltage 230 V 50 Hz (mains)
Charging voltage: 12 V DC
Output current 1800 mA
Maximum output power: 10 W
Overload protection
Short-circuit protection
Protection against reverse polarity connection
Charging time:

For 7 Ah batteries: approx. 5 hours
For 14 Ah batteries: approx. 9 hours
Caution!
The recommended charging current for gel accumulators is approx. 10% of their capacity, e.g. for a 12 V, 15 Ah accumulator the recommended charging current is 1.5 A. Before charging, read the battery manual.
Battery charger for 12 V / 0.8 A / 7-14 Ah gel batteries
The offered product is a gel battery charger, with which you can easily and safely charge many cells of this type. In addition to the device you will also receive a full set of wiring and detailed operating instructions.
Gel batteries are used to power electric motors in boats or cars as an alternative power source. When using this type of cell, it is even necessary to have a matching charging system for them.
Battery charger for 12 V gel batteries
The charger is supplied with power from a standard mains socket (230 V AC) at its input, and supplies the battery with 12 V DC at 1.8 A at its output - the maximum power output is 10 W. The offered charger for gel batteries has appropriate protection against overload and short circuit.