Product description: 3D / CNC engraving laser - PLH3D-6W-XF + - 12-24 V / 6 W
Professional engraving laser offering 6 W power and ease of use. The PLH3D is equipped with a lens mount with a rubber gasket that is compatible with most of the M9x0.5 lenses available on the market. The new generation of the PLH3D-6W series has an improved design without a pigtail cable, it has been replaced with a 6-pin terminal for connecting an external cable. The head has an LED indicating the operation of the device, which lights up when it is connected to the power supply. The LED diodes also indicate overheating of the laser module. When the ambient temperature exceeds 40 ° C during CW operation, the LED will flash to indicate that the temperature will soon exceed the maximum operating temperature. If the ambient temperature reaches 45 ° C or higher, the LED will stop working and the laser head will turn off. The head is equipped with a new generation of laser diode drivers , which are characterized by increased efficiency, emit less noise and are made of components of even higher quality.
The PLH3D-6W-XF + head is equipped with a switch for the 10 V analog input. The modulation input of the laser can be changed from 0-5 V analog input to 0-10 V analog input. This makes the laser even more versatile and compatible with even larger number of CNC devices and 3D printers .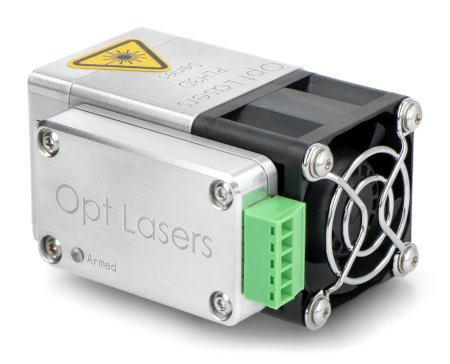 Laser head with terminal connector.
Main features of the PLH3D-6W-XF + laser head
Cutting and engraving - the PLH3D-6W-XF + blue laser allows you to cut and engrave a wide range of materials, incl. wood, cardboard, rubber, paper, textiles, leather, plastics, balsa, plywood, as well as marking of stainless steel, titanium and sub-types of steel with low thermal conductivity.
Factory set lens - The kit includes an installed High-Resolution Triplet lens with an adjusted focus of 60.0 mm. This focal distance provides a well-optimized focal spot size that is suitable for many laser engraving and cutting applications.
Symmetrical beam shift - in some applications, such as laser engraving of wood, it is recommended to defocus the laser beam slightly to obtain a symmetrical beam. This can be done by moving the engraving machine forward or backward in the direction of beam propagation (for PLH3D-6W-XF ± 4.4 mm [± 0.173 "]).
Versatility of input signals - the built-in controller allows to accept various analog signals 0-5V and 0-5V, 0-10V or 0-24V for PWM / TTL signal.
Built-in driver inside the laser head - Opt Lasers is the first company to integrate a laser diode driver directly into the laser head. A short connection between the diode and the driver provides better protection, the possibility of modulating the high-frequency current and eliminates the effects of inductance during switching on.
It does not require additional cooling - the clear shape of the laser heads provides the best possible method of cooling a 6W laser diode. The current design allows the laser to heat up only by 2-3 degrees Celsius after a whole hour of continuous operation at full power.
Specification of the Opt Lasers laser head
Supply voltage: 12 V to 24 V
Output current:

max. 5 A.
typical from 3 A to 3.5 A

Input current: max. 2 A
Maximum power consumption: 30 W
Laser power: 6W
Noise: 58 dBA
Mounting hole type: M3 x 0.5 x 4.5 mm
Modulation bandwidth: 30 kHz
Focal distance: 20mm to 120mm
Modulation input 1: 0V to 5V Analog / TTL / PWM
Modulation input 2: 0 to 24 V TTL / PWM
Laser diode wavelength: 450 nm
Power density: 225 kW / cm 2
Mounting hole pattern: 4 holes 25 x 15 mm
Integrated microcontroller for temperature measurement and soft start
Soft start for diode protection
Protection against electrostatic discharge (ESD)
Reverse voltage protection
Overcurrent protection
Compact size and 90% efficiency
CW mode and output control
Ambient temperature during operation: 0 ° C to 45 ° C
Dimensions: 40 x 54 x 78 mm
Weight: 210 g
Kit contents
3D / CNC engraving laser - PLH3D-6W-XF + - 12-24V / 6W
High-Speed controller integrated in the laser with analog and PWM / TTL inputs
PLH3D lens adjustment tool
High-definition engraving lens (factory set)
G2 high performance engraving lens
Connecting strip in case a cable extension is required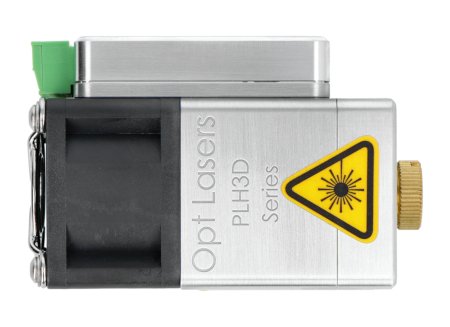 Opt Lasers laser head.
3D / CNC engraving laser - PLH3D-6W-XF + - 12-24V / 6W - High-precision construction
The design of the PLH3D-6W-XF miniature engraving laser has been refined down to the smallest detail to meet the requirements of professionals. The length of the laser light is 450 nm.
Thanks to the use of a high-resolution lens, the laser light is concentrated so that the treatment process is as accurate as possible. The PLH3D-6W-XF engraving laser module has small dimensions, which makes it easy to install in most machines, even with a small amount of free space. The laser design has also been thought out in terms of cooling efficiency and has built-in protection against overheating.
A great alternative to CO2 lasers
3D / CNC engraving laser - PLH3D-6W-XF - 12-24V / 6W is a very good alternative to standard CO2 lasers. Using this laser, we can perform many work involving processing in various materials.
The small diameter of the laser beam ensures very precise cutting and engraving. As a result, the details have a very good reproduction accuracy in relation to the preliminary design in digital form.