Description
Easy to use temperature, humidity and pressure sensor powered with a voltage of 3 V to 5 V. Communicates through an I2C interface or SPI. It is used, i.a. in meteorological stations, in systems of control of the conditions in enclosures, etc.
For proper operation, you only have to connect the power and line of I2C bus: data SDA and clock SCL.
The product is compatible with Arduino
Auser's guidefor Arduino users is prepared by the manufacturer.
The leads are soldered fields solders for soldering goldpin connectors- pitch 2.54 mm. They make it possible to connect the system with the breadboardor the central module, usingwires. The set includesthe goldpin connectors for self-assembly. STEMMA QT /Qwiicconnectors can also be used to connect the sensor with the main module.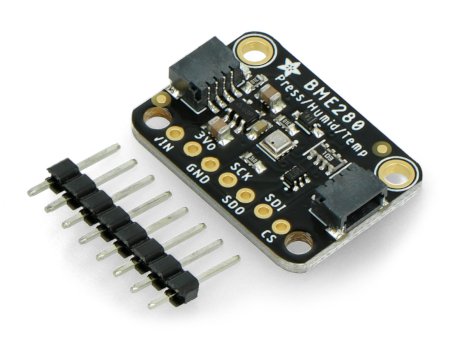 Specification
Supply voltage: 3.0 to 5.0 V
Module dimensions: 19 x 18 x 3 mm
Two mounting holes with a diameter of 3 mm
Temperature

Measurement range: -40 to 85 °C
Accuracy: ± 1 °C

Humidity:
Pressure

Measuring range: 300 to 1100 hPa
Accuracy: ± 1 hPa
*RH - relative humidity is expressed in percents. It is the ratio of actual moisture in the air to its maximum number that the aircan keep at a given temperature.