Pololu HP 250 motor specification: 1
| | |
| --- | --- |
| Supply voltage: | 3 May - 9 May |
| No-load current (6V): | 70 mA |
| Current with the shaft stopped (6 V): | 1600 mA |
| No load speed (6V): | 120 rpm |
| Torque (6V): | 3.4 kg * cm (0.33 Nm) |
| Gear ratio: | 250: 1 |
| Shaft Diameter: | 3 mm |
| Body dimensions: | 24 x 10 x 12 mm |
| Mass: | 10 g |
| Double-sided shaft: | NO |
Product description: Pololu HP 250 motor: 1
Small, light and powerful Pololu engines are used by robot constructors as drive units. Devices can be supplied with voltages up to 9 V, and useful power over 3 V. The optimal voltage with the best power to endurance ratio is 6 V.
Engine dimensions
The motor body is a cuboid with dimensions of 24 x 10 x 12 mm. The gearbox is 9.27 mm long. There is a 3mm D-shaped shaft at the exit. The total weight is approximately 10g.
Accessories
We offer a number of accessories that work with Pololu micro motors:

How does a DC motor work?
The Pololu 995 motor is a classic DC brushed motor equipped with a reduction gear. In such a motor, the voltage from the power source is applied to the carbon brushes which, through a commutator integrated with the rotor, supply the rotor winding. According to Ampere's law, the current flowing in the rotor windings creates a magnetic field that interacts with the magnetic field of the stator. The rotor is set in rotation, and the commutator connected to it, apart from supplying the supply voltage, thanks to the division into copper plates insulated against each other, causes rapid changes in the supply voltage, which make the rotor rotate in the same direction all the time. To reverse the direction of rotation of the rotor, the polarity of the voltage supplied to the motor brushes must be changed.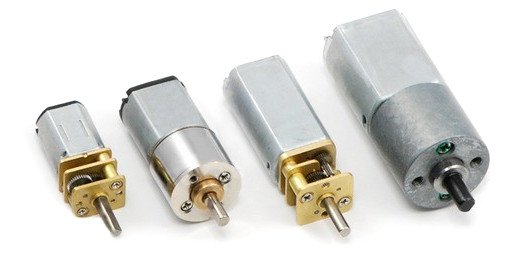 The store also offers many otherengines.
Gear transmission - a simple way to increase or decrease the rotational speed of the electric motor
Standard DC electric motors allow for rotational speed in the range from several hundred to several thousand revolutions per minute. However, if we use a reduction gear between the motor shaft and the driven element (e.g. road wheel), we can achieve a significant reduction in rotational speed. The Pololu 995 engine is equipped with a 250: 1 reduction gear. Thanks to this, this engine can be successfully used, among others to drive the robots, as well as the electric train. However, it should be remembered that in more demanding applications in terms of attachment strength, intense overloading of the motor shaft and gearbox can burn the brushes and the rotor windings.