Attention!
The product has been discontinued. Check other products in category.
Description
iNode ID Control smart relay cooperating with theiNode Control ID. It communicates via Bluetooth 4.0.The module can be used in RFID systems. iNode ID Control will be a great addition to your workplace.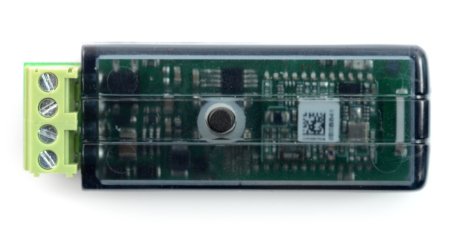 If the ID authorization ID is successful, then iNode Control Point allows you to e.g. close a contact which can turn on the handle opening the door and then the device stores this information in the iNode Control ID. Further scanning of this information from the iNode Control ID allows you to say what rooms a person carrying this ID has visited.

Software:
Apps for ANDROID and WINDOWS. Configuration software iNodeSetup.exe works on Windows with Bluetooth adapter based on the CSR 8510 chipset or Serial USB Transceiver iNode, iNode LAN. Linux system requires iNode Serial Transceiver USB and/or iNode LAN, and e.g. Ubuntu with Wine. The current version of firmware for iNode products available on the technical support site: http://support.elsat.com.pl/ user: inode, with no password.
Application
People and vehicle movement control
Work time control
Home automation
Gate automation
Specification
Bluetooth BLE - configurable from a PC

power: -18 dBm to 8 dBm (the maximum distance up to 200 m in open space)
the name of the device
the user's password
the password to access the device - independent of the user's password
Power: 6 V to 30 V DC
Current: 15 mA (scan mode) or 3.5 mA (transfer status)
Plastic body
Single output with zero voltage: 60 VDC or 40 VAC 500 mA 2.5 Ohm (solid state relay PhotoMOS type)
One button control
Working temperature: from -20°C to 45

°C

Humidity: 35% to 80% RGH
Chipset: CSR 101x
Dimensions: 50 x 20 x 15mm
Weight: 15g