Product description: step-up converter U3V7015 - 15 V 10 A
A controller that increasesthe voltage from 2.9 to 15 V to a constantvalue of 15 V.The system is able to process a maximum input current of10 A, a typical input current brings8 A for a few seconds, after which thethermal protectionmode is activated. It is recommended to useup to 6 A, the inverter can then runfor many minutes. The output current is a function of the input voltage, output voltage and efficiency of the inverter. Details can be found in the diagrams below.
The U3V70x family offers one version of the inverter with adjustable output voltage: U3V70A (4.5 V to 20 V).Versions with fixed voltage are also available:5 V,6 V,7.5 V,9 V, 12 Vand 15 V.All versions of the U3V70x are similar to each other, for ease of identification there is a blank space on the back where you can place your own marker.
Connecting the U3V7015 inverter
The module has four outputs:
VIN- input voltage, must not exceed the output voltage.
GND- ground potential.
VOUT- output voltage. In case of adjustable version it is selected by means of a potentiometer.
ENABLE- switches the system into low power consumption state. By default, the pin is pulled up to the VIN supply voltage via a 100 kΩ resistor. This means that if the output is left unconnected, the inverter is switched on by default. In order to put the circuit into standby mode, the low state (below 0.4 V) must be given. In this situation, the module only consumes current flowing through the 100 kΩ resistor, which is 10 µA depending on the input voltage being connected.

The connectors are properly signed on the board. The output roaster is 5 mm for ARK connectors and 2.54 mm for connectorsgoldpinwhich allow the module to be mounted incontact plateorconnectionby means ofcables.

Soldering connectors are included. You can choose popular goldpins or ARK high-current terminals. Thanks to the thicker PCB layer the terminals do not stick out of the circuit.
Output current and efficiency of the circuitU3V7015 step-up circuit
The efficiency of the inverter depends on the input voltage and the selected output voltage. On average, it ranges from 80 % to 95 %. The output current is a function of the input voltage, output voltage and inverter efficiency. It is usually the value around the input current.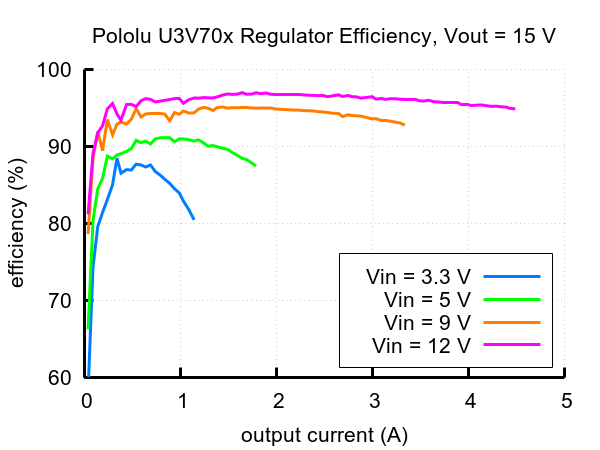 Figure 1: System efficiency at 15V output voltage.
To sum up, the maximum output current is proportional to the ratio between input voltage and output voltage. Additionally, its value may depend on external factors, e.g. temperature or air flow or the heatsink used.
Specification of step-up converter U3V7015
Input voltage: 2.9 V to 15 V
Output voltage: 15 V with 4 % accuracy
Maximum input current:

up to 10 A - instantaneous
to 8 A - for a few seconds
up to 7 A - for an extended period

Output current: see graphs
Low power consumption at rest
Efficiency of 80 - 95 %
Security:

Before reverse power connection
Thermal - switches off the system at too high a temperature
Switch-on interlock at too low a supply voltage - below 2.5 V
Short circuit
Input current limitation to 10 A

Two mounting holes for M2 screws
Dimensions: 40.6 x 15.2 x 4.6 mm
Weight (without connectors): 3.4 g