Product description: Shelly Gas - CNG WiFi gas sensor
Shelly CNG (naturalgas) sensor mounted directly into a 230 V socket. It communicates with the home WiFi network, a free application for mobile devices enables remote monitoring of rooms and sending notifications about possible threats. The sensor also alarms with a light and an audible signal about an encountered threat. The device is made of fire resistant materials.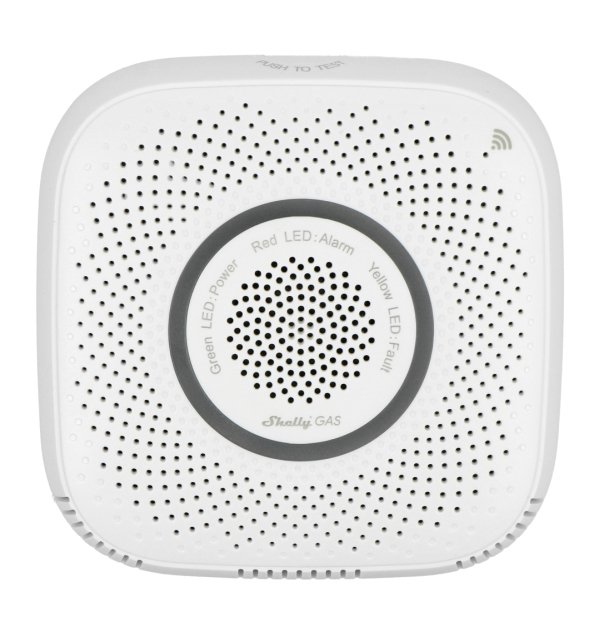 Shelly Gas - CNG gas sensor.
Main features of the gas sensor
Wireless- the sensor connects to your home WiFi network without the need for an additional device.
Gas sensor- the intelligent gas sensor monitors the CNG gas concentration in the room.
Fire resistant- the device is covered with a special fire-resistant coating.
Intelligent notifications- the sensor informs about the threat with a light and audible way, as well as a notification in the application. When the gas concentration drops to a safe level, the device will return to detection mode.
Monitor from anywhere- a dedicated mobile app allows you to view the status of the sensor from anywhere in the world.
Highly compatible- the device is compatible with Android, iOS, Amazon Alexa, Google Home and home automation servers using MQTT, CoAP and REST API.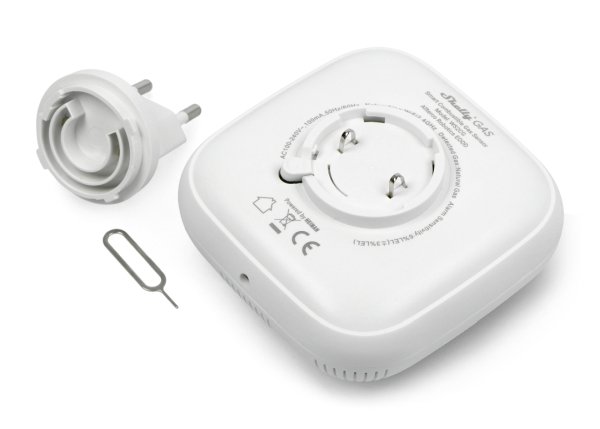 Shelly Gas kit contents.
Shelly gas sensor specifications
Supply voltage: 110 V to 230 V AC, 50 / 60 Hz
Detected gas: CNG - compressed natural gas
Alarm indicator: flash, buzzer
Alarm sensitivity: 6% DGW
Volume level: ≥

70 dB

Valve manipulator output: 11 V to 13 V / 500 mA

Operating temperature: -10°C to 50°C

Power consumption: up to 3 W

Communication: WiFi 2.4 GHz IEEE 802.11 b / g / n

Signal power: 1 mW

WiFi range: up to 50 m outdoors and up to 30 m indoors (depending on building materials)

Casing: fire resistant

Dimensions: 89.5 x 89.5 x 38 mm