Product description: Solid state relay SSR Fotek-25 DA - 25 A 380VAC / 32VDC
Solid state relay SSR Fotek - 25 DA, controlled with the voltage in the range from 3 V to 32 V DC. It allows to control devices of high power with the voltage from 24 V to 380 V AC and current up to 25 A.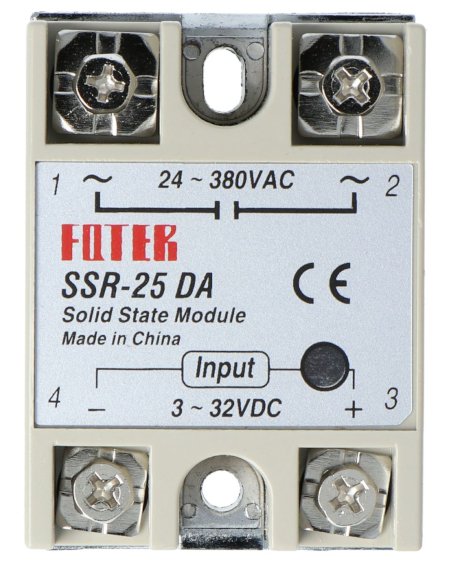 Solid state relay SSR Fotek - 25 DA.
Relay, due to the fact that it was made in the semiconductor technology, is characterized by high reliability. It provides high sensitivity and high switching speed, up to 10 ms. Thanks to the fact that the relay is of a semiconductor material, it does not have mechanical contacts which means its silent operation. Relays of this type are in great demand in automatic control systems. To ensure long and reliable operation at extreme loads, it is recommended to use the radiators removing the heat.
Specifications of the SSR Fotek relay
Operating voltage (output): 24 V to 380 V AC
Control voltage (input): 3 V to 32 V DC
Rated current: 25 A
Response time: up to 10 ms
Operating temperature: -30°C to 80°C
The distance between the holes: 48 mm
Status LED
Dimensions: 63 x 45 x 23 mm