Description
Module withmultiplexerthat allows you to connect8 differentdigitalI2C buses to one interface, for each, there are separate pins SDA (bus of data line) and SCL (clock line of the bus). The device operates with a supply voltage from3 V to 5 V, the output I2C bus has the ability to change the default address,0x70 to 0x77. Theoretically, it is possible to connect up to 8 multiplexers that allows you to control up to64 devices through a single I2C interfaceof minicomputer.The kit also includes a cable suitable forGravity DFRobot IO Expansion Shieldand a 4-pin goldpin connector.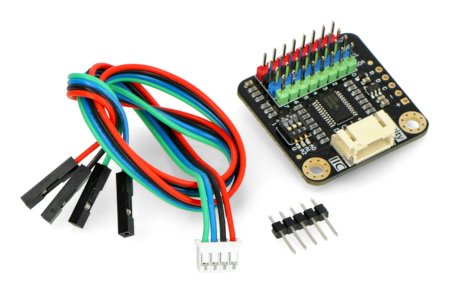 Pins
The system has four pins on a special connector, to which the cable is included in the package.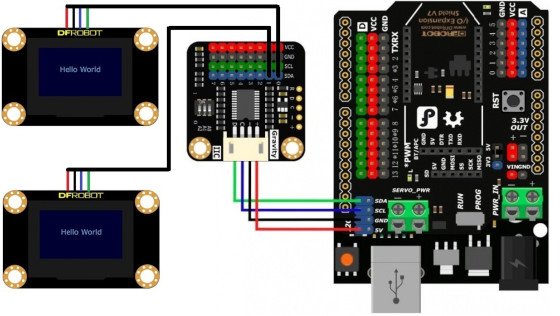 Connection example of module withDFRobot Gravity shield.
| Pin | Description |
| --- | --- |
| VCC | Supply voltage: from 3.3 V to 5 V. |
| GND | The ground of the system. |
| SCL | Clock line of I2C interface. |
| Traffic | Data line of I2C interface. |
Specification
System:TCA9548A
Supply voltage: from 3.3 V to 5 V
Connector type: PH2.0-4P
Interface: I2C (IIC)
Clock I2C: 100K, 400K
The number of I2C ports: 8
The default I2C address: 0x70
Range of I2C addresses: from 0x70 to 0x77
Dimensions: 32 x 32 mm