Description
Vioce recorder module based on ISD1820. It has a built-in microphone and a jack connector for speakers or headphones. Built-in functions allow you to record and playback audio of up to 10 sec. The supply voltage is 5 V. The module operates in connection with theArduino modules. The kit includes a cable adapted toDFRobot IO Expansion Shield.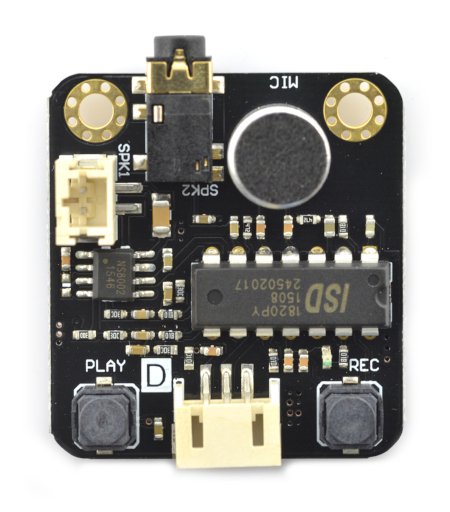 The module can operate as a standalone device or can be controlled through an external microcontroller.
The product is compatible with Arduino
Sample code and detailed information can be found inthe user guide.
Specification
Supply voltage: 5 V
Function buttons

REC - record
PLAY - plays the recorded sound

Jack connector for loudspeaker 8 Ohm / 3 To
Recording time: up to 10 h
The sampling frequency is 6.4 kHz
Extended system life: 100,000 records
2 mounting holes 3 mm in diameter
Dimensions of plate: 37 x 35 x 9 mm