Product description: WiFi controlled smart switch - Blow 72-080
A smart switch controlled by wireless WiFi communication. It is powered by 90V to 230V. Allows you to connect to the Internet, so you can control any device of your choice using our smartphone or tablet. The device additionally enables the use of voice control Amazon Echo smart box - you only need to properly configure this option. The set includes a user manual for the device, which includes an appendix "How to use Amazon Echo".
Main functions of the WiFi switch
Allows you to control it with your smartphone
Low power consumption in standby mode
Easy to install and use
Suitable for installation in hard-to-reach places and flush-mounted boxes
Two-way real-time feedback
Possibility to use the voice control function
Allows you to manage electrical devices from anywhere with Internet access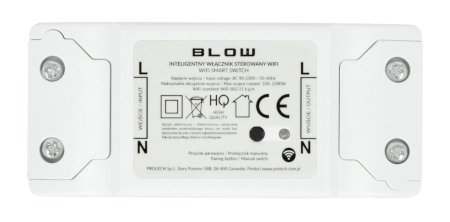 Intelligent switch controlled by WiFi.
Switch works with applications
Smart Life
Tuya
IFTTT
Amazon Alexa
Google Assistant
specifications of the switch
Manufacturer: Blow
Supply voltage: 90 V to 230 V AC (50 / 60 Hz)
Maximum output load: 10 A / 2300 W
WiFi standard: 802.11 b/g/n
WiFi frequency: 2.4 GHz
Supported systems: Android, iOS
Screw connectors
WiFi switch - a way to save energy
Lighting is one of the most important elements creating a unique atmosphere in the room. Lamps, lamps, wall sconces, platfoms, etc. illuminate the interior of the house every day. Regardless of which source we use, we have to reckon with the costs resulting from the consumption of electricity. On the market there are more and more solutions to protect the environment and reduce energy consumption.
Installation of intelligent light switch is fast and trouble-free. The device is designed for flush-mounted installation and can be placed in place of a conventional switch. Intelligent light switch is a tool for people who value convenience and comfort in their home. It allows you to easily and quickly decide on the operation of, for example, individual light sources. WiFi switch is a solution that can be used both in single-family houses and apartments.
The switch allows you to remotely control various devices in the house or garage using WiFi.