Product description: TSL2591 - Digital light intensity sensor - STEMMA QT / Qwiic - Adafruit 1980.
Digitallight intensity sensorwithTSL2591from Adafruit. It enables detection of light intensity with asensitivity of up to 188 ulxin the rangeup to 88000 lx. It has a very high dynamic range of600M:1. Powered by3 V to 5 V DC. For communication with the microcontroller module it usesI2Cinterface. It is used in various lighting conditions and is characterized by low power consumption.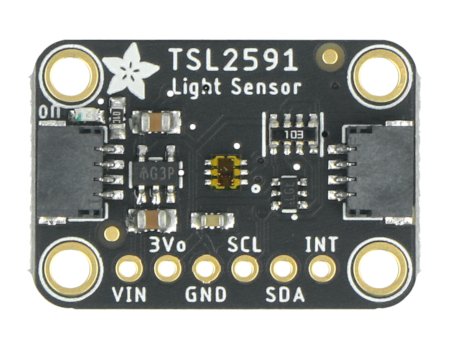 Digital intensity sensor from Adafruit.
Sensor connection
The sensor TSL2591 has specialleadsto which goldpin connectors (included in the kit) should be soldered. The second possibility is to connect the sensor to the main module using STEMMA QT /Qwiicconnectors.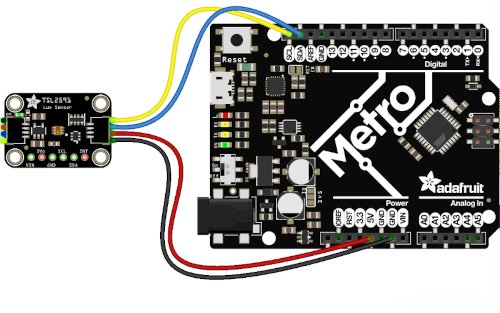 Connection of sensor with Arduino Metro using STEMMA QT / Qwiic connectors.
| Pin | Description |
| --- | --- |
| VIN | Supply voltage from 3 V to 5 V DC |
| 3Vo | Supply voltage 3.3 V |
| GND | System weight |
| SCL | I2C interface clock line |
| SDA | I2C interface data line |
| INT | Pin interruption |
Technical Specification TSL2591
Supply voltage: 3 V to 5 V DC
Layout: TSL2591
Communication interface: I2C
Interface address: 0x29
Sensitivity: up to 188 ulx
Measurement range: from 0 lx to 88000 lx
Dynamics: 600M:1
Data rate: up to 400 kB/s
Spectral sensor response close to the human eye
Possibility to work behind dark glass
Dimensions: 19 x 16 x 1 mm
Weight: 1,1 g