Product description: 2in1 hotair and soldering station Zhaoxin 852DH - 75 W
Solderingiron and hot air station in one. Total power of the station is 75 W. The station has two built-in LED displays informing about the set temperature of hot air and soldering tip. The device has also Hotair blowing force adjustment.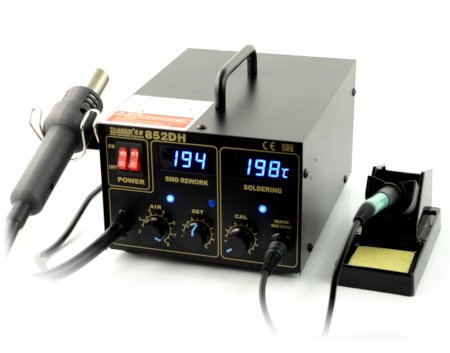 Design of Zhaoxin 852DH
TheZhaoxin 852DH is designed to be anti-static. It has ESD Safe function that protects soldered components from damage. The wide application and negligible failure rate of the device gives it a leading place in the market of soldering stations.

Technical specification of the station
Supply voltage 230 V / 50 Hz (mains)
Power: 75 W
The station has an ergonomic housing
The station has ESD Safe system (protection against CMOS chip damage by electrostatic charge)
Hotair soldering iron
LED display indicating the hot air temperature
Air flow rate: up to 24 liters/minute
Infinitely adjustable airflow by turning the knob
Temperature stabilization independent of airflow rate
ESD Safe system (protection against electrostatic charge build-up)
Soldering tip
Soldering tip temperature control from 200 °C to 480 °C
Soldering iron power 75 W
LED display indicating the soldering iron temperature
Included
Soldering station

Zhaoxin 852DH

Soldering iron holder with cleaning sponge
Hot air pot holder
Power cord
Instruction manual

Set of nozzles: 3 pcs.
Initial start-up
Do not start the equipment immediately after delivery.
The equipment should be left for about 12 hours at room temperature before start-up.
Any fault report caused by premature start-up of the equipment will be rejected.
Note
Heating elements (heaters) and tips are not subject to warranty and replacement is free of charge.
We also offer accessories for soldering:
2in1 hotair and soldering tip station Zhaoxin 852DH - 75W
Soldering stations signed by Zhaoxin logo are known in the market for their reliability and trouble-free operation, even in case of intensive use. Devices of this type are designed for both professional and amateur use.
In addition, the soldering station, or in fact its flask, is lightweight and distinguished by its ergonomic shape. This combination makes it possible to comfortably solder small electronic components for several hours without feeling fatigue.
Easy to use 2in1 hotair and soldering tip station by Zaoxin model 852DH
The presented device, despite the high power, is small, so you can comfortably and above all safely use it even in a small work space.
In addition, Zaoxin 2in1 hotair and soldering tip station model 852DH with a power of 75 W provides a stable temperature of the tip and air blow, even in the case of long soldering.