Product description: ZigBee Tuya ZIG-DM lighting controller
A ready-madelighting controlmodule that allows you to control the brightness, switch lighting on or off remotely or with a traditional mechanical switch. It operates with a voltage of230 Vup to 150 W.Small dimensions of the module allow forinstallation in an electrical box.The module communicates with the ZigBee network, for proper operation use of the TuyaZigBeegateway.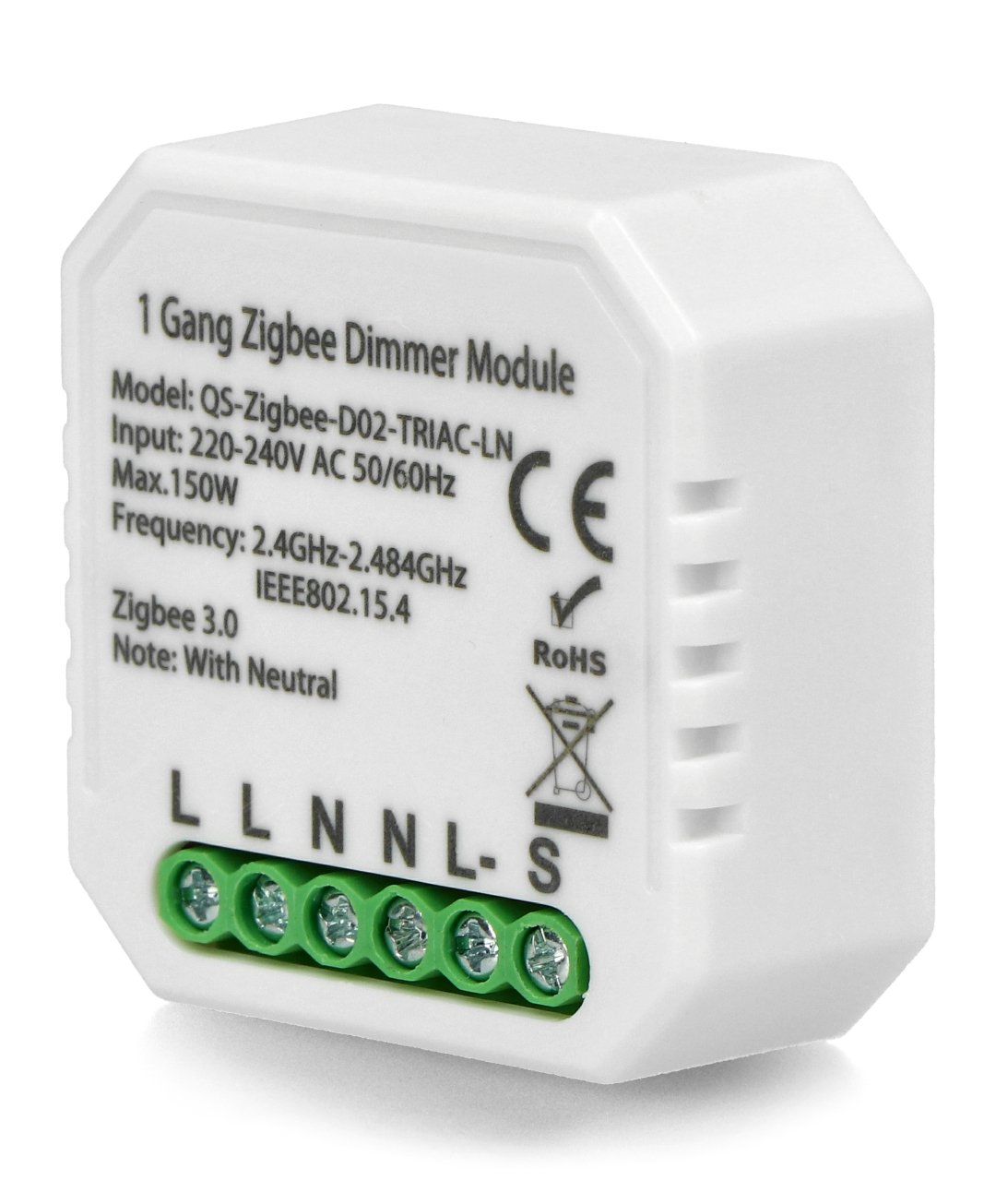 ZigBee lighting controller.
Note
The device to work properly requires a connection to theZigBeegateway,which can be purchased separately.
Controller connection diagram
Before starting to install the controller, make sure that the circuit is disconnected. The module can be mounted in an electrical box and controlled by means of traditional mechanical switches, it can also be used in a staircase system.

Controller connection diagram.
The module has six inputs in the form of screw terminals to which wires can be connected with a screwdriver:
L -230 V positive pole supply.
L- power supply 230 V positive pole.
N- power supply, neutral wire - ground.
N- power supply, neutral wire - ground.
L-- power supply of the controlled light source.
S -possibility of connecting an external push-button for the L- output, the second line of the push-button should be connected to the phase line marked L. It has a possibility of using a staircase switch.
Main features of Tuya ZigBee lighting controller
Enables automatic lighting control
Working on a weekly schedule
Works according to the scenario, depending on other elements of the system
Remote control with a smartphone or remote control with a traditional switch
Compact housing for installation in an electrical box
Works with ZigBee headquarters
Lighting controller specification
Communication protocol: ZigBee version 3.0 according to standard 802.15.4
Antenna type: built-in
Power supply voltage: 230 V (L and N lines)
Power: from 5 W to 150 W
Number of controlled circuits: 1
Dimensions: 51 x 46 x 17 mm
Weight: 72 g