Attention!
The product has been discontinued. Check other products in category.
Product description: Laser 3D/CNC PLH3D 2 W 12 V
Professional laser head  W, which is designed for cutting or engraving materials such as wood, paper, leather, cardboard and much more.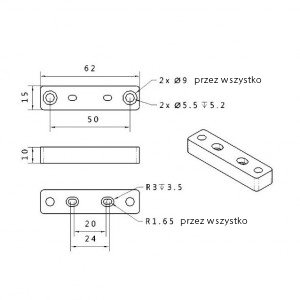 The print headdoes not require additional cooling, the design makes it works as a fully adapted nozzle of the veil to protect the lenses and cooling of laser headfrom dirt. PLH3D 2 workss with acommon power supply of 12 V(minimum current 1.5 A).
The driver of the print head is supplied with an LED indicator, whichdisplays all the necessary information.Integrated temperature control systemprevents overheatingand turns off device when exceeding the critical temperature. A smalldriver is connected directly to the laser head,improves the modulation speed of the LEDs.
Analog modulation allows the user to manage the power of the laser:
0 V - laser is off
5 V - laser enabled, 100% power
2 V - laser

enabled

, ~ 40% power
The device can also work as a TTL with a voltage from 0 to 5 V.
Modulation using PWM requires the installation of abasic frequency between 5 and 10 kHz.
The device also allows for very fast prototyping of PCB prototypes.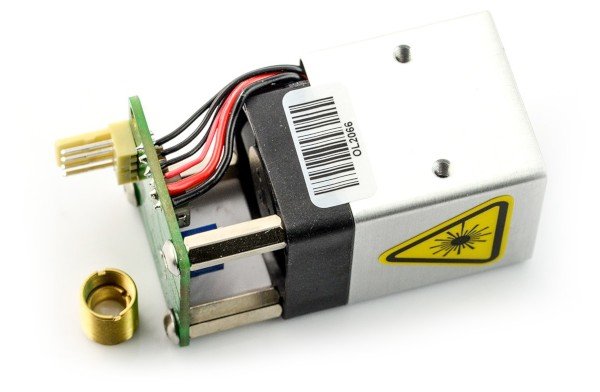 Specification of engraving laser
Focal length: 20 mm to 120 mm
The spot size of the focused beam:

@ 50 mm 0,1 x 0,1 mm
@ 80 mm: 0.1 x 0.18 mm

Input voltage: 12 V
Maximum power consumption: 15W
Spectrum of modulated input voltage: 0 V to 5 V
Type of modulation: analogue / TTL
The distance between the mounting holes: 20 mm
Noise level: 23 DBA
Dimensions: 30 x 30 x 68,5 mm
Weight: 70 g
Note:
Laser radiation is dangerous, even if it is scattered or reflected from any surface
Always use appropriate filter laser on your CNC machine dedicated to 430 - 480 nm, to avoid the Engraving radiation
Never direct laser beam at people or animals, it can cause burns or other injuries
Do not look into the beam or point beam during cutting of material
You should avoid exposure of eyes or skin to direct or scattered radiation
Laser device of class 4