Attention!
The product has been discontinued. Check other products in category.
Description
Color sensor with integrated microcontroller to measure the color and light intensity, An additional feature is the generator of colors based on the built-in LED RGB. It communicates via 1-wire interface, operates with a voltage of 5 V.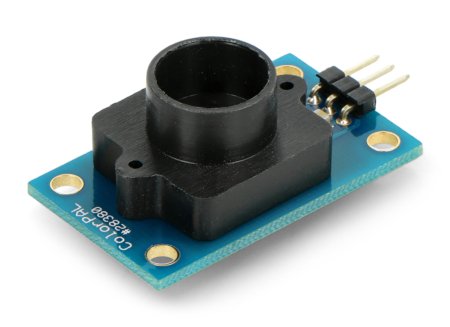 Connector is compatible with wires for servos - goldpin connectors with the pitch of 2.54 mm.
Measurement
The sensor generates a model color and measures the intensity of light reflected from the measured object. The result is indicated to the built-in light - voltage converter. Basing on the number of RGB components, determined is the color of the surface. The condition for correct measurement is the lack of fluorescence of the studied subject. The results of color measurement of devices that are actively emitting the light, for example, LEDs that can be deceitful.
Key features
The sensor is able to detect colors from a wide range with a resolution of 10-bit of the RGB palette
The sensitivity of the measurement of light intensity is 44 microwatts/cm2
The device allows you to generate colors from 24-bit RGB palette
Connector is compatible with the wires for the servos - goldpin connectors, 2.54 mm pitch
The device has a built-in microcontroller which is defining the colors and generating the color
EEPROM memory allows you to record programs
The autorun feature allows you to run individual programs when the power is connected
Specification
Supply voltage: 5 V
Communication: serial 1-wire interface

asynchronous not reversed
open-drain output 
transmission speed: 2400 - 7200 bps (automatically detected)
resistor pull-up installed on board

Dimensions: 44 x 23 x 17 mm