Product description: CP2102N USB-UART converter - with microUSB connector - Pololu 1317
A module based on the CP2102 chip, which enables data conversion between USB-UART standards. With this converter you can exchange data between a PC equipped with USB port and a microcontroller supporting the popular serial interface. The module has a built-in microUSB connector. Additionally, the chip contains four general purpose digital outputs (GPIO).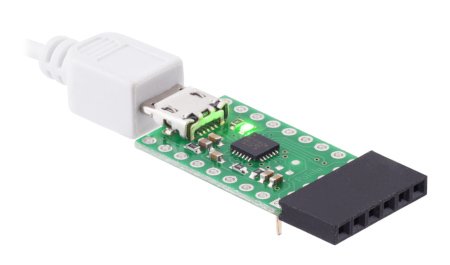 For proper work of the converter a microUSB cable is required, which is not included in set. You can buy it separately in our shop.
Pinout description
Pinouts of the converter are popular goldpin connectors with 2,54 mm pitch. They allow to connect the module with wires or allow direct PCB plugging. In addition, the converter has four digital GPIO pins, which can be controlled by one-time programming ROM.
VDD - regulator output with voltage of 3.3 V
VBUS - USB bus voltage 5 V
GND - system ground
RST - RESET pin
TX - serial data transmission pin UART
RX - UART serial data receive pin
CTS - "Clear to send" control input (used with RTS pin)
RTS - "Ready to send" control output (used with CTS pin)
DSR - "Data set ready" control input (activated by low state; used with the DTR pin)
DTR - "Data terminal ready" control input (activated by high state; used with the DSR pin)
DCD - "Data carrier detect" control input (activated with low state)
RI - "Ring indicator" control input (activated by low state)
GPIO.0 / GPIO. 1 / GPIO. 2 / GPIO .3 - general purpose digital input / output pins
Technical specification
Module: USB-UART converter
Chip: CP2102N
Operating voltage: 3.3 V to 5 V
Current consumption: 15 mA
Connector: microUSB
USB standard: USB 2.0
Transmission speed: from 300 b/s to 3 Mb/s
Leads: solder fields
Module dimensions: 15.2 x 24.1 mm
Contents of the kit
CP2102N USB-UART converter
Straight goldpin terminal block 1x25 pin
Corner goldpin socket 1x6 pin
Socket goldpin - angled 1x6 pin