Attention!
The sale of the product has been completed. Check others in thiscategory.
Description
The module has a built-in ATmega168 microcontroller. It functions as a stand-alone system, thanks to which it is possible to create a network of IoT sensors supported by theRaspberry Piminicomputer.It contains a connector for RapidRadio GPIO, a microUSB socket, 2 LEDs, a button and a relay.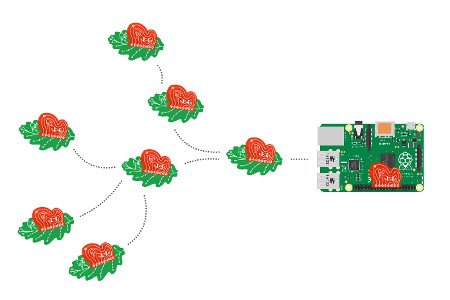 Example of created network of RapidRadio modules andRaspberry Piminicomputer, which can be purchased separately.
Main functions
Encrypted network: messages among all nodes
Adding a new module to the network with only 2 clicks
Network status: ping message tracking
3 GPIO pins as digital inputs / outputs
Can be controlled via a built-in relay
ADC Pin: analogue input
Internal temperature sensor
SPI interface (shared with RapidRadio module) with automatic switching on any GPIO pin
I2C interface: 100 kHz
Up to 4 PWM outputs:

From 32 Hz to 10 kHz x 2
1 Hz to 10 kHz x 1 two-channel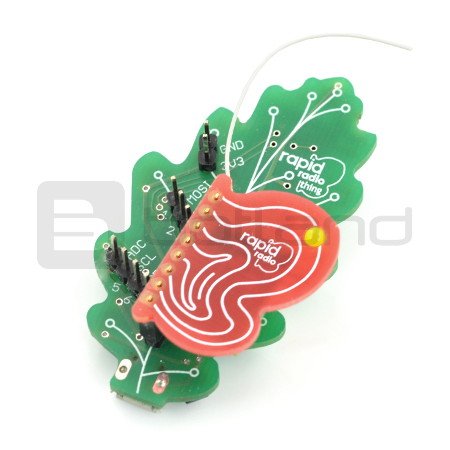 The subject of sale is the RapidRadio Thing module.RapidRadio GPIOcan be purchased separately.
Connection
When the RapidRadio module is connected and a 5 V power supply is connected via the microUSB connector, the board is ready for operation. Adding another node to the network is very easy. Simply press the button on the bottom of the RapidRadio Thing until the red LED starts flashing. At this point it takes 30 seconds to send a special login command. It contains the communication channel, network key, address and text description of the node. Commands can be sent using rapidradio.thing.win.exe or rapidradio.thing.cmd.exe tools for download fromthe manufacturer's website.
Specification
Power supply voltage: 5 V with microUSB
Microcontroller: ATMega 168PB
RapidRadio GPIO connector
MicroUSB connector
One pin reset
Power pins: 3.3 V and GND
250 V / 3 A relay with wire connector
Configuration button
2 status LEDs
Module dimensions: 63 x 35 x 15 mm