Product description: 3D Printer - Creality Ender-3 S1
Another version of Creality's popular Ender-3 series 3D printer, the Ender-3 S1 has a dual Z-axis and a powerful direct drive extruder designed to work with flexible filaments. The 3D printer also features a CR-Touch leveling sensor and a quiet 32-bit motherboard. The working area of the device is 220 x 220 x 270 mm. The dimensions of the Ender-3 S1 design are 487 x 453 x 622 mm. The kit consists of partially assembled parts, so the assembly takes several minutes.
Powerful direct drive extruder
The Creality Ender-3 S1 has a built-in direct drive extruder. The manufacturer's proprietary two-speed extruder has two metal gears operating at a gear ratio of 1:3.5. With a contact force of up to 80 N, the extruder ensures smooth, slip-free filament feeding. It works efficiently even when printing flexible materials, such as TPU. Compared to other direct drive extruders, the Creality's design is lighter and features more precise positioning.
Simplified leveling process
The Ender-3 S1 is equipped with Creality 's proprietary 16-point CR-Touch leveling sensor. It avoids the hassle of manually leveling the workbench. Simple and easy to use, the intelligent leveling system can automatically compensate for the printing height of different points on the workbench.
Dual Z-axis
With dual stepper motors and trapezoidal screws in the Z-axis, the Ender-3 S1 runs smoother and more stable. The coordinated operation of the Z-axis drive components reduces the risk of lines and bulges on the sides of the 3D print, thus improving print quality.
Multi-layer workbench surface
Creality Ender-3 S1 features a multi-layer workbench surface. On the hotbed is a magnetic over lay over which a sheet of spring steel is applied. On top there is an additional layer of PC plastic, which has direct contact with the resulting 3D print. It provides good adhesion and the printed models can be easily removed by bending the sheet.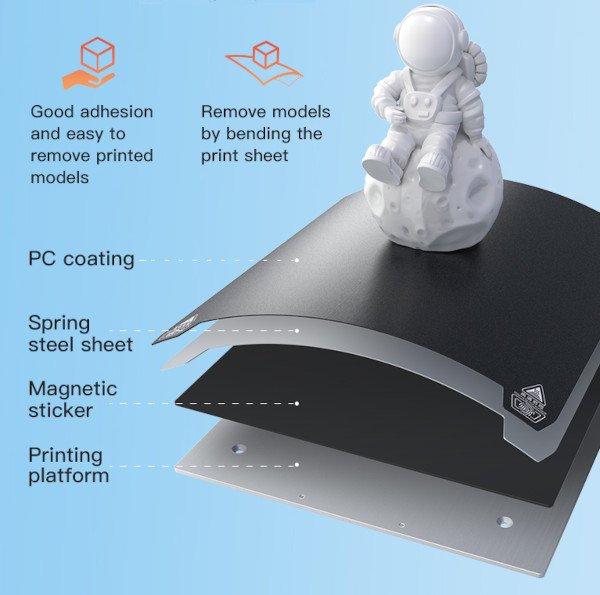 Coatings of the 3D printer work surface.
Convenient control screen
The 4.3-inch LCD screen has a completely new user interface. The menu is easy to read, its operation with a knob should not cause problems even for less experienced users. The display automatically dims when inactive for 5 minutes, saving energy and protecting the environment.
Other printer features
The Creality Ender-3 S1 is equipped with a number of features that make the 3D printer user's job easier and safer. Foremost among them should be mentioned:
Quiet 32-bit motherboard. During operation, its noise should not exceed 50 dB
Simple assembly of the device. The 3D printer is assembled in 96%. The final assembly involves only six simple steps, during which the main components of the printer should be connected together
Convenient knob for adjusting the tension of the multiple V-ribbed belt
Resume print after power failure
Filament sensor, which allows the 3D printer to pause when it detects a missing or broken strand of print material
Creality Ender-3 S1 3D Printer Specifications
Technical Specifications
Printing method:
FDM
Print size:
220 x 220 x 270 mm
Nozzle temperature:
260°C
Nozzle diameter:
100°C
Nozzle diameter:
standard: 0.4 mm
Printing accuracy:
+/- 0.1 mm
Print thickness:
0.05 mm to 0.35 mm
Print speed:
up to 150 mm/sec
Supported filament:
PLA, ABS, TPU, PETG
Filament diameter:
1.75 mm
Display:
4.3'' LCD (knob controlled)
Extruder type:
Direct drive
Operating mode:
USB (USB Type-C), SD card
Supply voltage:
115 V / 230 V AC
Power:
350 W
Printer dimensions:
487 x 453 x 622 mm
Weight:
9.1 kg