Product description: Acrylic protective cap for Arylic Up2Stream Mini V3 receiver
The cabinet is dedicated for the Up2Stream Mini V3receiver.Arylic's productis madeof transparentacrylic, whichensuressafetywhen using the amplifierand protects it from mechanical damage. It is compact and thanks to its small size does not take up much space. The dimensions of the enclosure when assembled are as follows:56 x 45 x 15 mm.

Up2Stream Mini V3 amplifier module with Arylic Case.
The Up2Stream Mini V3 amplifiermust be purchased separately.The kit includes an acrylic cover in the form of two plates (bottom pad and cover measuring 56 x 45 mm), copper spacers (to be placed on the 4 ends of the module) and a package of screws needed for assembly.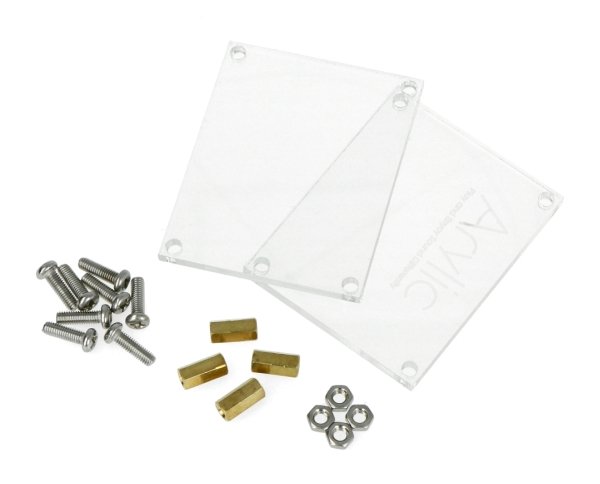 The kit includes an acrylic cap for the Arylic receiver.
Specification
Colour: transparent
Material: Acrylic
Overlay dimensions: 56 x 45 mm
Set contents
Acrylic cover - 2 pcs.
Screws - 8 pcs.
Nuts - 4 pcs.
Copper distances - 4 pcs.