Product description: AC adaptor/adapter from wall socket to car socket 12V/0,5A
Stabilized AC adapter with car socket. Mains power supply: from 100 to 240V. Output voltage: 12 V DC. Output current: 500 mA. Allows you to connect devices powered from the car socket at home using a regular power socket, e.g. car navigation, etc.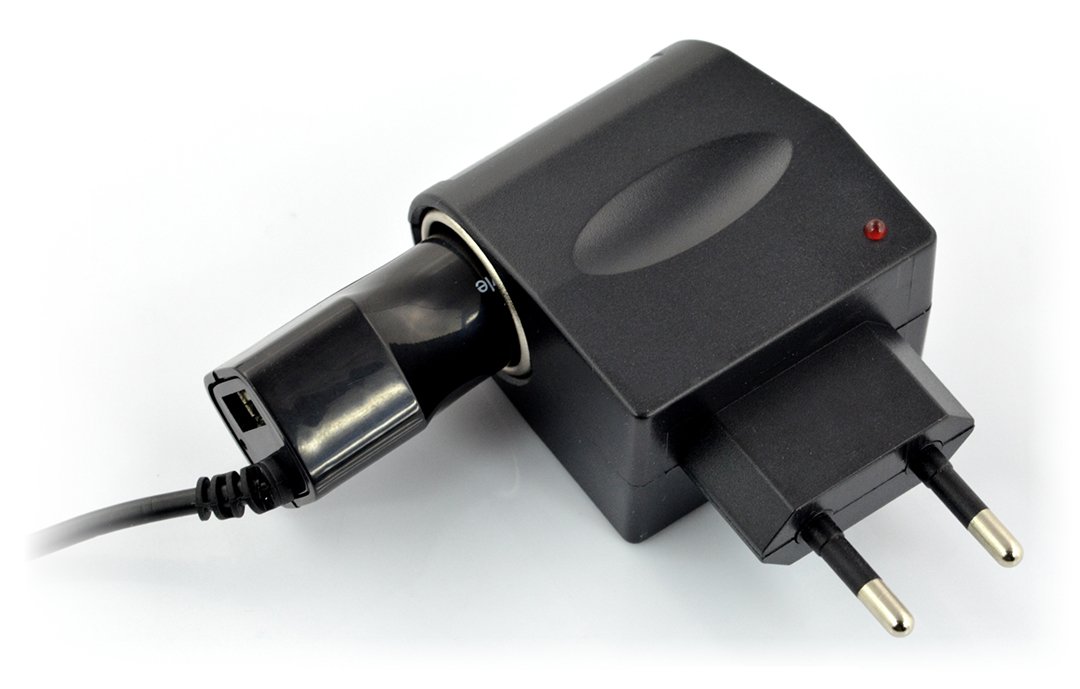 The item is the socket adapter, the charger can be purchased separately.
Power adapter specification
Input voltage: AC 100 to 240 V / 50 - 60 Hz
Output voltage: DC 12 V
Output current: up to 500 mA
Housing color: black
Connector: car socket
The simplest way to power up your car devices
In cars, the cigarette lighter socket plays a very important role as it is the only electrical outlet available "on board". For this reason many different devices are adapted to this type of power supply, especially electronics and accessories for travelling. But what if we want to use such a device at home?
In this case, the appropriate adapter to the cigarette lighter socket comes with help. On one side it is equipped with a socket identical to the one installed in cars, while on the other side there is a classic plug for a mains socket.
Practical adapter for charger
The charger adapter converts the mains voltage of 100-240 volts (i.e. the typical mains voltage) into a DC voltage of 12V/0.5A. This value is typical for most electrical accessories used in cars. The maximum current can be up to 500 mA.
Thanks to the adapter you can use at home for example the car charger for smartphone or GPS navigation. The compact form and streamlined housing give the adapter a modern look. An advantage of the adapter's design are the recesses in the sides of the housing, making it easy to hold.
How does the 230V/12V adapter work?
In essence, the adapter from a wall socket to a car socket is a switching power supply with a voltage stabilizer circuit. Unlike conventional power supplies, this adapter does not work with a transformer. The input voltage is supplied from the 230V AC mains and passes through a rectifier circuit. Then, the voltage is reduced by the buck converter system and is stabilized
at the output of the power supply.
Safe design with high output voltage stability
The converter supplying the supply voltage reduced and transformed to the level of the voltage of a car electric installation is a device made in II protection class (no connection with a protective contact). Built-in switching power supply with voltage stabilization can work with input voltage from 100VAC to 240VAC. Thanks to this, the adapter is safe and guarantees a stable voltage at its output.