Description: Grove - IR thermal imaging camera MLX90641 110° - I2C - Seeedstudio 101020892.
The thermal imaging camera is equipped with a 16 x 12temperature sensorarrayMLX90641.It can detect temperatures from -40°Cto 300°C andobject temperatures from far away with an accuracy of ± 1°C in the center area and an averageaccuracy of ± 1.5°C.The camera communicates through the I2C interface. The camera's field of view is110° x 75°.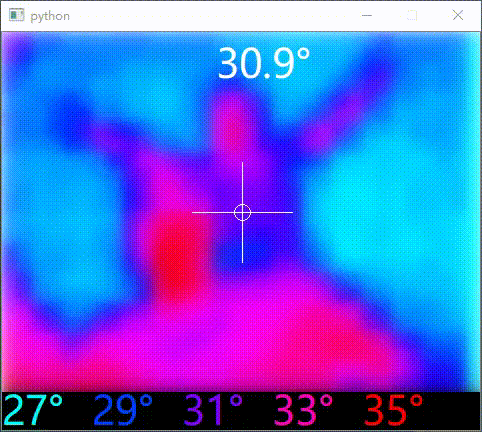 Image from the thermal imaging camera.
How does it work?
Each object emits a certain amount ofinfrared radiation. The IR thermal imaging camera is equipped witha heat sensorthat can detect small differences in temperature between objects in the environment. It then collects information about the radiation of objects and createsan imagebased on the information about the temperature difference. The warmer the object, the more IR radiation it produces.

Camera principle.
The module communicates with the microcontroller via theI2Cinterface. For proper operation of the camera, a chip with at least 20000 bytes of RAM should be used. The camera operates withvoltage from 3.3 V to 5 V.On the board there is a Grove connectorfor easy connection of modules to the base plate.
The thermal imaging camera leads
The module communicates through the I2C interface. It requires a microcontroller with a minimum of 20 kB of RAM to work. Built-in Grove connector makes it easy to connect the module to the base board.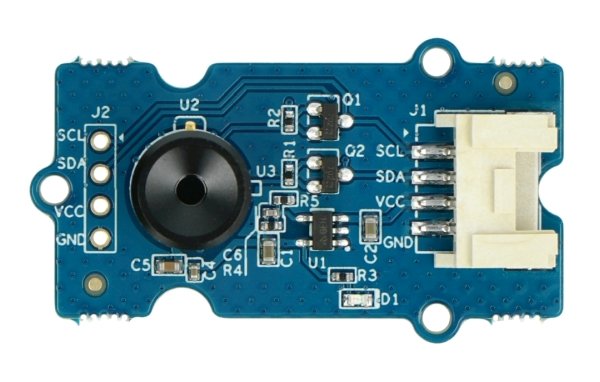 | Pin | Description |
| --- | --- |
| SCL | I2C bus clock line. |
| SDA | I2C bus data line. |
| VCC | Supply voltage from 3.3 V to 5 V. |
| GND | The weight of the system. |
Thermal imaging camera specifications
Operating voltage: 3.3 V to 5 V
Current consumption: approx. 18 mA
Viewing angle (FoV): 110° x 75°
Measuring range: -40°C to 300°C
Accuracy: ± 1

.5°C

Refresh rate: 0.5 Hz to 64 Hz

Interface: I2C

I2C address: 0x33

Dimensions: 40 x 20 mm