Description: Adafruit
Clue - nRF52840 Bluetooth LE - micro:bit compatible - Adafruit 4500.
The Adafruitdevelopmentboard, which supports Bluetooth communication and includes a number ofcommon sensors. It has a color TFT display and PDM MEMS microphone. It is equipped with a 3-axis accelerometer, gyroscope and magnetometer, it has a proximity, light, color and gesture sensor and humidity, temperature and pressure sensors. Powered from any source from 3 V to 6 V.Adafruit Clue ismicro:bitcompatible and can be programmed in Arduino IDE or CircuitPython environment.
The module is equipped with a1,3"colour IPSTFTdisplay with a resolution of240 x 240 px. Thanks to it both text and graphics are presented in high resolution. Additionally, there are two A / B buttons, one RESET button and NeoPixel RGB LED indicator. In order to ensure maximum comfort of use, the manufacturer has addeda buzzer,playing a sound signal and twoLEDs, which detect the light level and color.
The Adafruitdevelopment boardallows the user to usean impressive number of sensors.It consists of:
Accelerometer, gyroscope and magnetometer

Proximity sensor, light, colour and gesture sensor

humidity sensor

temperature and pressure sensor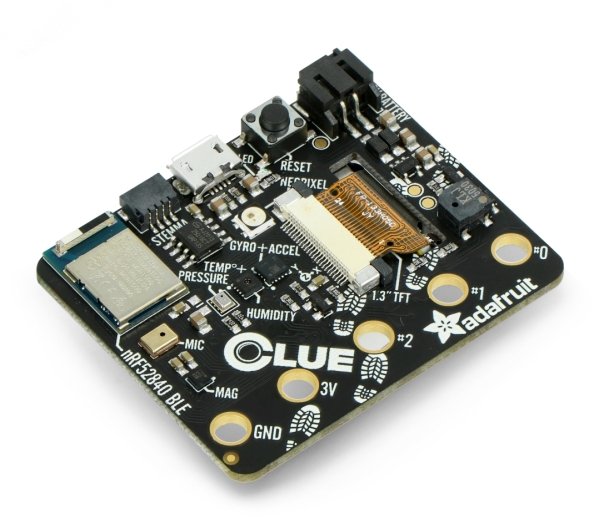 Adafruit development plate module.
Arduino compatible product
In order to facilitate work with the module, the manufacturer has prepared auser guidewith a sample program for Arduino.
LSM6DS33: 3-axis accelerometer and gyroscope
Sensor for measuring acceleration and angular velocity in three axes. It is characterized by its small size and low power consumption.
Three axes: X, Y, Z
Communication interface: I2C, SPI
Measurement ranges (configurable):

Accelerometer: ±2, ±4, ±6, ±16 g
Gyroscope: ±125, ±245, ±500, ±1000, ±2000 °/s
LIS3MDL: 3-axis digital magnetometer
The module responsible for the operation of the magnetometer. With it, you can determine where the magnetic force comes from.
Three axes: X, Y, Z
Communication interface: SPI / I2C
Resolution: 16 bits for each axis
Measuring range (configurable): ±4, ±8, ±12, ±16 gauss
APDS9960: Proximity sensor, light, colour and gesture sensor
Built-in functions:
Gesture sensor
Proximity sensor
Ambient light sensor
RGB colour sensor
SHT-30: temperature and humidity sensor
Temperature and humidity sensor, which is equipped with a protective metal mesh. Thanks to it, it is highly resistant to atmospheric conditions.
Temperature

Measuring range: -40°C to 125°C
Accuracy: 0.5°C

Humidity

Measuring range: 0% RH to 100% RH
Accuracy: 0.2% RH
BMP280: temperature and pressure sensor
Temperature sensor module with Bosch BMP280 digital barometer.
Built-in thermometer
Measuring range: 300 to 1100 hPa
Accuracy: ± 1 hPa
For a detailed description of the outputs for individual components, see themanufacturer's userguide.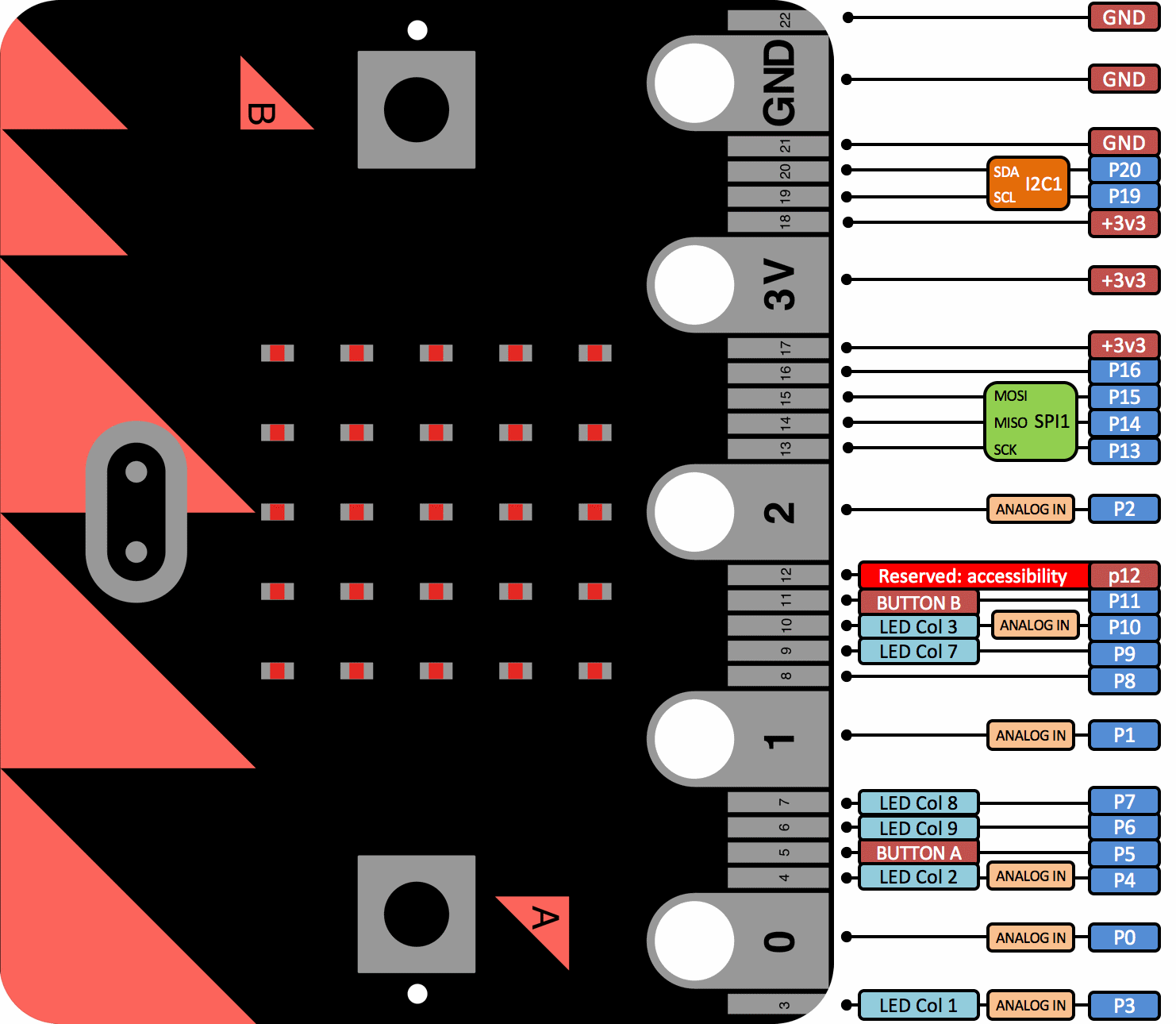 Technical Specification
Processor: nRF52840 Bluetooth LE

Flash memory 1 MB
RAM: 256 KB
64 MHz Cortex M4 processor

IPS TFT display

Diagonal: 1,3''.
Resolution: 240 x 240 px

MEMS PDM Microphone

Clock frequency: 1 MHz to 3,25 MHz

Current consumption: 0.6 mA
SNR: 61 dB
Sensitivity: up to -26 dBFS

Internal flash memory: 2 MB
Programmable with Arduino IDE or CircuitPython
Power supply: any source from 3 V to 6 V

Dimensions: 51.7 x 42.2 x 12.3 mm

Weight: 13.0 g