| new generation | 40×40×40 cm | 1 min |
| --- | --- | --- |
| high precision | large working area | quick-swap |
| 300 °C | 10W | 200W |
| --- | --- | --- |
| 2x extruder | powerful laser | CNC tool |
Product description: Snapmaker Artisan 3D printer - laser module, CNC, 3D printing in a housing
A set that includes a 3in1 Snapmaker Artisan multifunctional device with a chamber that ensures safety while working with the machine. The device is controlled using a touch screen. The working area of the new Snapmaker is as much as 400 x 400 x 400 mm (400 x 400 x 400 m for 3D printing) . The set includes modules that enable printing with a filament with a diameter of 1.75 mm, laser engraving and a CNC tool that allows carving.

Industrial grade technology
Thanks to the use of precise CNC grinding technology in the production of the rope guides used in the Artisan 3D printer, it was possible to achieve a level of transmission technology that meets the high requirements of the industry. High precision with fast and stable printing are the advantages of the new Snapmaker product.
Artisan is an even larger print area
Create large objects or many smaller models at once - as you wish on a 400 × 400 × 400 mm workspace.
Large 7-inch widescreen touchscreen
The new design of the user interface is more intuitive and its faster operation provides a higher class of work ergonomics.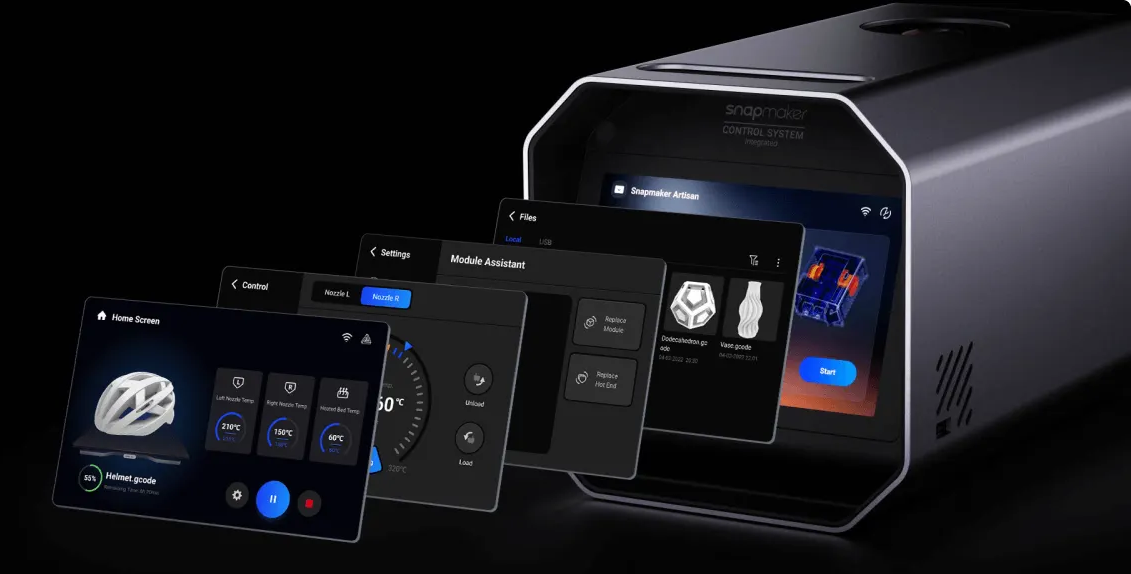 Ergonomic user interface on the Snapmaker Artisan 3D printer
Move, click and... done!
The 3D printing, CNC and laser modules are equipped with the Quick-Swap function, which allows you to replace the head with any other tool in no more than 1 minute .
Construction made of metal - a higher level of precision
In addition to the Artisan's all-metal construction inherited from its predecessor, the A-series Snapmaker, it features an improved, larger, one-piece plate with a larger size. The new base is rock solid - even when running the CNC head at high speeds.
Comprehensive CAM software: Snapmaker Luban 3in1
Tailor- made Snapmaker Luban software provides both access to the preview of the current operation of the device and the ability to configure it in the following modes: 3D printing, laser and CNC machining. One Snapmaker Luba software supports three different tools.
The latest Luban has built-in practical printing modes. No need to adjust parameters. Nice prints are just a few clicks away.
You can only access basic parameters and, as always, have full control over the process.
Fast and solid
Thanks to the optimized transmission system and motion control algorithm, the Artisan has an accuracy of ± 0.1 mm when printing at a high speed of 180 mm/s .
Standard modes
Fine Mode
Speed: 40mm/sec
Acceleration: 800mm/s²
Layer: 0.12mm
Normal mode
Speed: 80mm/sec
Acceleration: 1000mm/s²
Layer: 0.16mm
Quick modes
Fast mode
Speed: 120mm/sec
Acceleration: 1500mm/s²
Layer: 0.20mm
Extra Fast mode
Speed: 200mm/sec

Acceleration: 2000mm/s²
Layer: 0.24mm
Double sided work table
The new double-sided Snapmaker Artisan 3D print bed is made of higher-viscosity glass for a smooth and well-adhered first layer. Glossy glass on one side and PEI coating on the other, helping to maintain high adhesion to many materials
A stronger CNC head ensures even better results
You can now choose from a wider range of materials also for CNC. The CNC module with a power of 200 W enables precise machining of the so-called hard wood (beech, walnut) and other hard materials. Compared to Snapmaker 2.0, the Artisan CNC module has increased its power by 300% and spindle speed by 50%, making it 6 times faster.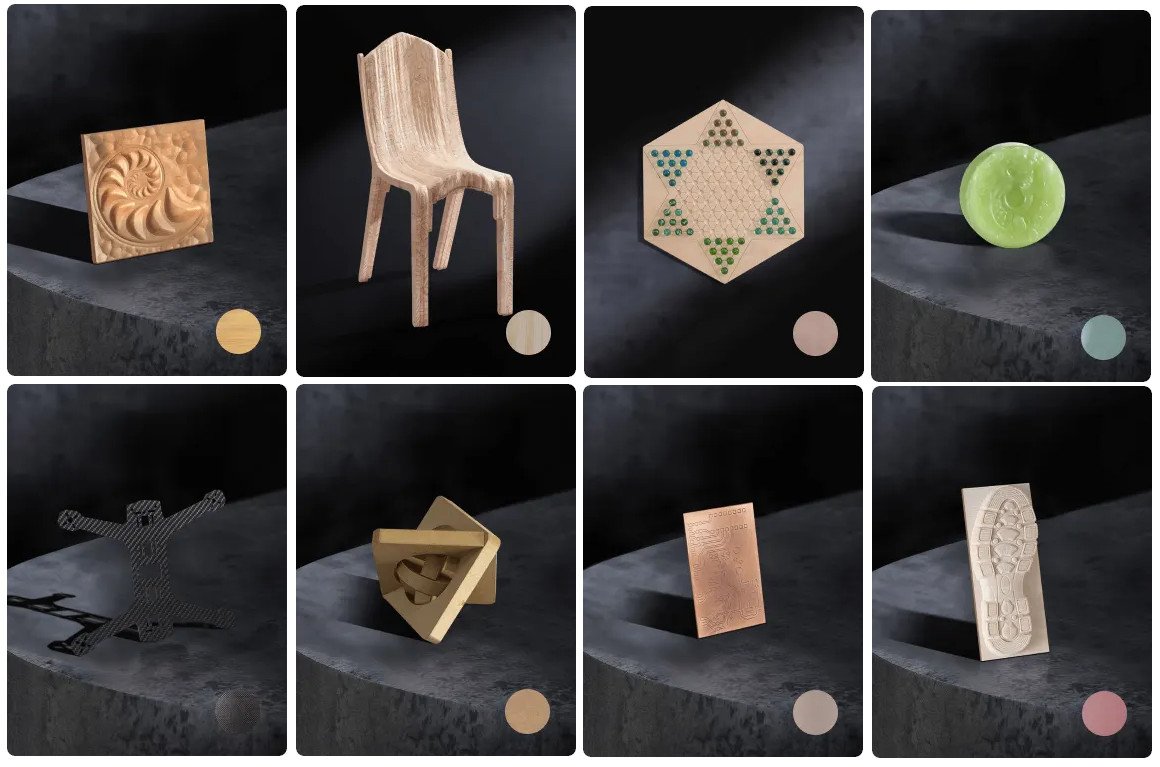 Materials (top left): beech, pine, plywood, jade, carbon fiber board, HDF board, copper, epoxy material.
Snapmaker Artisan Specifications
Basic information
Color Display:
touch 7"
Frame material:

aluminum alloy

Communication:
USB drive, USB cable, WiFi
Supply voltage:
from 100V to 240V AC
Supported systems:
MacOS, Windows, Linux
Dimensions of the folded device in the housing:

943(L) x 665(W) x 705(H)mm

Dimensions of the folded device without housing:

634(L) x 580(W) x 634(H)mm

Working area for 3D printing:

400(L) x 350(W) x 400(H)mm (Dual Nozzle)

Working field for the laser:

400(L) x 400(H)mm

Working area for CNC:

400(L) x 400(H)mm

Mass:

52.9 kg
Supplied in two packages:


34.8 kg - pack A
31.5 kg - package B

Line Modules:

TMC2209 / 40x40x8mm / ±0.05mm

3D printing
nozzle diameter:

0.4mm
(optional: 0.2/0.6/0.8mm)

Maximum printing nozzle temperature:

300°C

Maximum working platform temperature:

110°C

Layer Accuracy:

+/- 0.1mm

Worktable:

double-sided (PEI / glass)

Supported materials:

PLA, ABS, ASA, PETG, TPU, Breakaway PLA, PVA, HIPS, Nylon, Carbon Fiber Reinforced Nylon, Glass Fiber Reinforced Nylon

Filament Diameter:
1.75mm

Supported file formats in Snapmaker Luban:

.stl, .obj
Laser engraving
Laser power:
10W
Laser Type:
semiconductor 450-460 nm
Security class:
1
Working temperature:
from 0°C to 35°C
laser spot:
0.05mm x 0.2mm

Supported materials

for engraving:

basswood, pine, plywood, beech, walnut, bamboo, MDF, painted metal, copper clad laminate, stainless steel, anodized aluminum, dark glass, slate, ceramic, jade, marble, leather, textiles, canvas, corrugated board, plastic, dark acrylic (no blue)

Supported materials

to cut:

linden, pine, plywood, beech, walnut, bamboo, MDF, leather, textiles, canvas, corrugated cardboard, cardboard, plastic, dark acrylic (no blue)

Supported file formats in Snapmaker Luban:

stl, svg, png, jpg, jpeg, bmp, dxf
CNC machining

Handle Diameter:

0.5mm to 6.35mm

Working area:

400mm x 400mm

Spindle revolutions:

up to 18,000 RPM

Working speed:

50 mm/s (beech)

33mm/sec (acrylic)

Supported materials:

hardwood (beech, walnut), softwood, HDF, MDF, plywood, jade, carbon fiber, acrylic, epoxy toolboard, PCB

Supported file formats in Snapmaker Luban:

stl, svg, png, jpg, jpeg, bmp, dxf
Useful links
User Manual EN (coming soon)